Avengers: Endgame
Part of the journey is the end.
AVENGERS: ENDGAME
I squandered all my chances to see Avengers: Endgame when it was in the theaters.  But, I still felt obligated to watch this big screen epic film.  Avengers: Endgame is the massive conclusion to the Avengers: Infinity Wars, the war that was so devastating to the Marvel Cinematic Universe (MCU).  So, I watched on a big screen at home in 2-D, I know, stupid, I missed the 3-D, the Imax and the 4DX formats.  I treated this like a mandatory thing I had to do. So, I squeezed in 3 hours and started watching.
As soon as Dear Mr. Fantasy, by Traffic started playing I was hooked.
"Dear Mr. Fantasy, play us a tune
Something to make us all happy
Do anything, take us out of this gloom"
I sat there for the entire 3 hours and I don't think I even moved.
After the first 10 minutes you were up to speed and you realized where this was heading.  Avengers: Endgame gathered all the loose ends and headed straight into conflict.  It was very well done, flowed nicely and had its usual comedic moments. The film made a very complicated time travel scenario make sense (if you didn't think about it too much).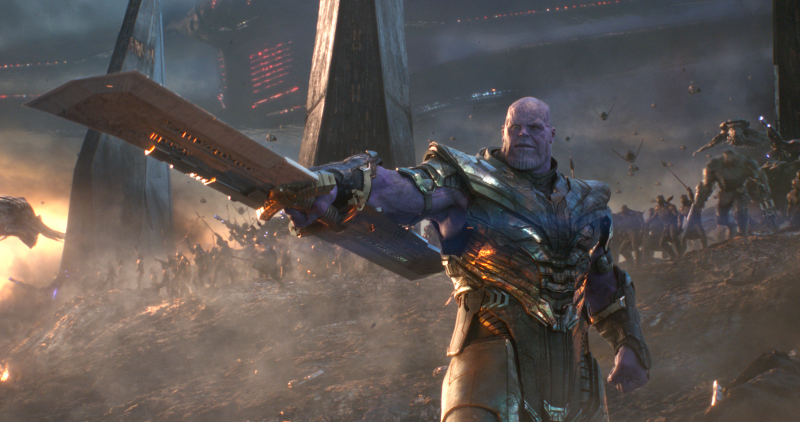 I don't usually comment on acting in a CGI movie – screaming a word or two at a green screen is not acting – it's a paycheck.  The usual characters, Ironman (Robert Downey Jr.), Captain America (Chris Evans), The Hulk (Mark Ruffalo), Black Widow (Scarlett Johansson), Hawkeye (Jeremy Renner), and Thor (Chris Hemsworth) had the biggest roles.  All the characters sounded and acted just like all the other MCU films they have been in.  Although, Thor did do some acting since his character gained a bit of weight and developed a dependency, at least for while.
Of course, the CGI is the best in the world and all you can do is sit back and appreciate the marvel of the Avengers: Endgame epic film.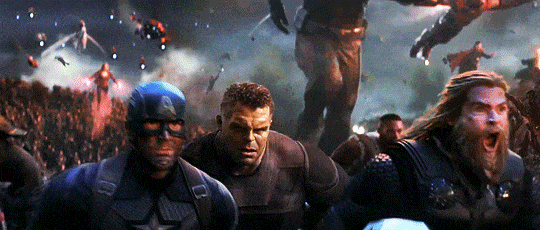 What struck me the most was how large the cast was and how well this film showed the magnitude of the MCU.  At one point all the cast listed below lined up and the camera panned over the entire Marvel Cinematic Universe, it was an incredible CGI scene.
The Entire MCU Cast:
I'll just end this with a cast listing and say it was a very enjoyable trip through time.
Robert Downey Jr. as Tony Stark / Iron Man
Chris Evans as Steve Rogers / Captain America
Mark Ruffalo as Bruce Banner / Hulk
Chris Hemsworth as Thor
Scarlett Johansson as Natasha Romanoff / Black Widow
Jeremy Renner as Clint Barton / Hawkeye
Don Cheadle as James "Rhodey" Rhodes / War Machine
Paul Rudd as Scott Lang / Ant-Man
Brie Larson as Carol Danvers / Captain Marvel
Karen Gillan as Nebula
Danai Gurira as Okoye
Benedict Wong as Wong
Jon Favreau as Happy Hogan
Bradley Cooper as Rocket
Gwyneth Paltrow as Pepper Potts
Josh Brolin as Thanos
Benedict Cumberbatch as Dr. Stephen Strange
Chadwick Boseman as T'Challa / Black Panther
Tom Holland as Peter Parker / Spider-Man
Zoe Saldana as Gamora
Elizabeth Olsen as Wanda Maximoff / Scarlet Witch
Anthony Mackie as Sam Wilson / Falcon
Sebastian Stan as Bucky Barnes / Winter Soldier
Tom Hiddleston as Loki
Pom Klementieff as Mantis
Dave Bautista as Drax the Destroyer
Letitia Wright as Shuri
William Hurt as Thaddeus Ross
Cobie Smulders as Maria Hill
Winston Duke as M'Baku
Tom Vaughan-Lawlor as Ebony Maw,
Jacob Batalon as Ned
Vin Diesel as Groot
Chris Pratt as Peter Quill / Star-Lord
Samuel L. Jackson as Nick Fury
Ross Marquand as Red Skull / Stonekeeper
Michael James Shaw as Corvus Glaive
Terry Notary as Cull Obsidian
Evangeline Lilly as Hope van Dyne / Wasp
Tessa Thompson as Valkyrie
Rene Russo as Frigga
John Slattery as Howard Stark
Tilda Swinton as the Ancient One
Hayley Atwell as Peggy Carter
Marisa Tomei as May Parker
Taika Waititi as Korg
Angela Bassett as Ramonda
Michael Douglas as Hank Pym
Michelle Pfeiffer as Janet van Dyne
Linda Cardellini as Laura Barton
Maximiliano Hernández as Jasper Sitwell
Frank Grillo as Brock Rumlow
Robert Redford as Alexander Pierce
Callan Mulvey as Jack Rollins
Ty Simpkins as Harley Keener
Natalie Portman as Jane Foster
James D'Arcy as Edwin Jarvis
Hiroyuki Sanada portrays Akihiko
Alexandra Rabe portrays Morgan Stark
Emma Fuhrmann portrays Cassie Lang,
Stan Lee has a posthumous cameo in the film as a car driver in 1970; this is his final film appearance.
Movie Details
Director

Writer

—

Actors

Robert Downey Jr., Chris Evans, Mark Ruffalo, Chris Hemsworth, Scarlett Johansson, Jeremy Renner, Don Cheadle, Paul Rudd, Emma Fuhrmann, Benedict Cumberbatch, Chadwick Boseman, Brie Larson, Tom Holland, Karen Gillan, Zoe Saldana, Evangeline Lilly, Tessa Thompson, Rene Russo, Elizabeth Olsen, Anthony Mackie, Sebastian Stan, Tom Hiddleston, Danai Gurira, Benedict Wong, Pom Klementieff, Dave Bautista, Letitia Wright, John Slattery, Tilda Swinton, Cobie Smulders, Jon Favreau, Hayley Atwell, Natalie Portman, Marisa Tomei, Taika Waititi, Angela Bassett, Michael Douglas, Michelle Pfeiffer, William Hurt, Vin Diesel, Bradley Cooper, Gwyneth Paltrow, Robert Redford, Josh Brolin, Chris Pratt, Samuel L. Jackson, Sean Gunn, Winston Duke, Linda Cardellini, Maximiliano Hernández, Frank Grillo, Hiroyuki Sanada, Tom Vaughan-Lawlor, James D'Arcy, Jacob Batalon, Lexi Rabe, Ross Marquand, Joe Russo, Michael James Shaw, Terry Notary, Kerry Condon, Ben Sakamoto, Ava Russo, Cade Woodward, Stan Lee, Yvette Nicole Brown, Callan Mulvey, Lia Russo, Julian Russo, Taylor Patterson, Agostino Rosalina, Ken Jeong, Ty Simpkins, Jackson A. Dunn, Lee Moore, Bazlo LeClair, Loen LeClair, John Michael Morris, Michael A. Cook, Brent McGee, Brian Schaeffer, Jamie Wedel, Anthony G Breed, Erica Ribley, Monique Ganderton, Jim Starlin, Jimmy Ray Pickens, Hye Jin Jang, Russell Bobbitt, James Lin, Jack Champion, Sam Hargrave, Patrick Gorman, Aaron Lazar, Robert Pralgo, Tom Wisdom, John Posey, Ameenah Kaplan, Olaniyan Thurmon, Jennifer Elmore, Mike Lutz

Runtime

3 h 01 min

Release Date

24 April 2019

Genres

Overview

After the devastating events of Avengers: Infinity War, the universe is in ruins due to the efforts of the Mad Titan, Thanos. With the help of remaining allies, the Avengers must assemble once more in order to undo Thanos' actions and restore order to the universe once and for all, no matter what consequences may be in store.