A STAR IS BORN
The fourth remake of A Star is Born starts out with a bang. The introduction of Jackson Maine (Bradley Cooper) at one of his live concerts, shot with handheld cameras, is excellent.  The photo below is during the filming at a concert in England.  Bradley Cooper plays the guitar during the filming, but the sound of his guitar is not heard in the movie. He wrote some of the music, sings on the movie soundtrack, and directed the movie; this movie occupied years of Bradley Cooper's life.
The first concert scene is followed by the random meeting of Ally (Lady Gaga) – the only woman allowed to sing in a Drag bar – another excellent scene. Then the perfect first date happens. Ally and Jackson bare their souls and move the story along quickly.
This first portion of A Star is Born is the most entertaining – filled with great music. This is when you meet most of the characters, learn their backstory, their faults and pluses, and where you see insecure Ally develop into a rock star.
When Ally meets her future Manager Rez Gavron (Rafi Gavron) the tone begins to change a bit. Relationships get more serious and settled. Also, Ally begins to develop into her own star, a pop star. The movie lags a bit but is still watchable and entertaining. Eventually, Ally's fame grows and Jackson's wanes (all due to his own faults). The movie then begins the downward spiraling plot – still excellent but sadder.
No faults with this movie – the acting of Lady Gaga and Bradley Cooper is stellar. Bradley wins my award for selling the role of an alcohol and drug dependent rocker trying to recover.  Jackson's character is uncomfortably scary good in his struggle with addiction.  Both Lady Gaga and Bradley Cooper were nominated for Oscars for their acting and the song Shallow won the Oscar for Best Original Song.  Andrew Dice Clay (as Lorenzo, Ally's father), Dave Chappelle (as Jackson's friend) and Sam Elliot (as Jackson's older brother), all giving excellent performances. Jackson's friendships further emphasize how damaged Jackson's psyche is, Alley's interactions with her father Lorenzo shows how healthy Alley's psyche is.
Alley and Jackson sing over 12 songs or portions of songs in this fourth remake of A Star is Born.  The finale song, I'll Never Love Again, shows the full range of Lady Gaga's voice. The credits at the end continue with the music, watch the credits.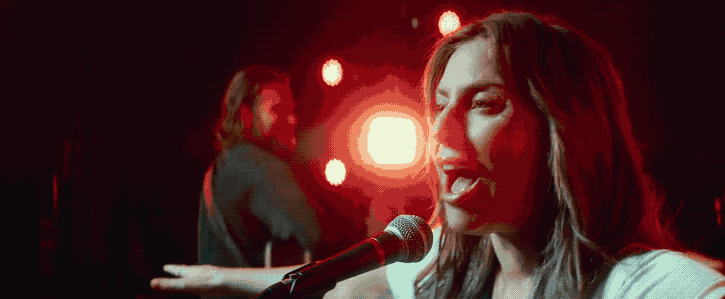 Just so people stop asking, this is the fourth A Star is Born, Janet Gaynor and Fredric March in 1937 (not a musical, watch it for free on Youtube); Judy Garland and James Mason in 1954 (good musical); and Barbra Streisand and Kris Kristofferson in 1976 (yucky musical almost identical premise to this fourth remake).
Movie Details
Director

Writer

—

Actors

Lady Gaga, Bradley Cooper, Sam Elliott, Andrew Dice Clay, Rafi Gavron, Anthony Ramos, Dave Chappelle, Marlon Williams, Brandi Carlile, Ron Rifkin, Barry Shabaka Henley, Michael D. Roberts, Michael Harney, Rebecca Field, Willam Belli, Greg Grunberg, D.J. "Shangela" Pierce, Eddie Griffin, Drena De Niro, Jacob Schick, Gabe Fazio, Luenell, Lukas Nelson, Anthony LoGerfo, Corey McCormick, Logan Metz, Tato Melgar, Don Roy King, Halsey, Alec Baldwin

Runtime

2 h 15 min

Release Date

3 October 2018

Genres

Overview

Seasoned musician Jackson Maine discovers — and falls in love with — struggling artist Ally. She has just about given up on her dream to make it big as a singer — until Jack coaxes her into the spotlight. But even as Ally's career takes off, the personal side of their relationship is breaking down, as Jack fights an ongoing battle with his own internal demons.