BAD TIMES AT THE EL ROYALE
Bad Times at the El Royale is a horror/thriller, written and directed by Drew Goddard.  Drew wrote Cloverfield, and co-wrote an excellent movie with Joss Whedon, Cabin in the Woods; both are horror films. Mr. Goddard also wrote a screenplay for The Martian, and he has done a lot of TV work.  Bad Times at El Royale is the first film he both wrote and directed, which is more of an arty horror/thriller film touching briefly on current social morals.
Bad Times … has been criticized for the length (141 minutes) and slow pacing.  In this case, the more deliberate pacing is for good reasons, "Who wants to die next," followed by a long spin of a roulette wheel, adds much suspense.
I usually disregard the length of the movie as a criticism.  I like a story with a lot of character development and background to let you develop a feeling.  If you can't sit through an intelligent and well written 2 hour and 20-minute movie because of your lack of concentration or bladder control, switch to some other form of entertainment; movies tend to be getting longer.
Bad Times at the El Royale is very much similar to a stage play.  Most of the film is at one location with two scenes, the hotel lobby, and a few connected rooms.  Flashbacks are elsewhere.
Plot:
In 1969, a group of unrelated guests check-in at the El Royale, a run down, off the grid failing hotel that straddles the California/Nevada state line.  Based on the events that happen, I have to assume it is in the middle of nowhere.
Father Daniel Flynn (Jeff Bridges) is a Catholic Priest from The Immaculate Heart of Mary Church in Indiana.
Darlene Sweet (Cynthia Erivo) a soul singer auditioning in an adjacent town
Laramie Seymour (Jon Hamm) a vacuum cleaner salesman
Emily Summerspring (Dakota Johnson), and her sister Rose (Cailee Spaeny)
Miles Miller (Lewis Pullman) the disturbed, aloof hotel clerk
Billy Lee (Chris Hemsworth) the interloper who shows up later and starts the "party."
All the characters eventually meet in the lobby of the El Royale for what turns out to be a long, fascinating evening.
Thoughts:
Each time I see her act, I like Cynthia Erivo (Widows, Harriet) more and more.  She plays a different type of character in each film, and gives a different vibe in each film, a kudos for her.  In addition to her Tony Award in 2016 for Best Actress in a Musical, The Color Purple, she also won a Grammy Award in 2017 for Best Musical Theater Album (The Color Purple along with Jennifer Hudson). In Bad Times … she gets the opportunity to sing Motown songs from the 60's.  Her singing is usually just Ms. Erivo singing by herself while rehearsing or as part of the story line intrigue. Singing along with intrigue, that's cool.
In addition to Ms. Erivo's singing, Bad Times … has a great soundtrack using 30 songs from the 1960s, including Motown, Pop, Folk, and Rock.
Chris Hemsworth (He is Thor) gives an excellent performance as a manipulative cult leader borderline psychopath.  His dancing with a gun and an open shirt will burn some sort of image in your mind.
Dakota Johnson (The Peanut Butter Falcon) and Jon Hamm (Tag) aren't developed much and do little acting.  But, good ole Jeff Bridges brings another reliable performance. He is the leading character and brings the intrigue without the horror. But when he starts helping himself to whiskey, "Nothing like a warm whiskey on a cold night," he starts to resemble Father Lebowski.
Overall, this is a fun horror/thriller that alludes to modern ethical dilemmas such as sexual harassment in the workplace, blackmail, assassinations, perversions, and cults. Bad Times at the El Royale is a reasonably long, intelligent, and entertaining movie, with memorable characters – why else do you see a film.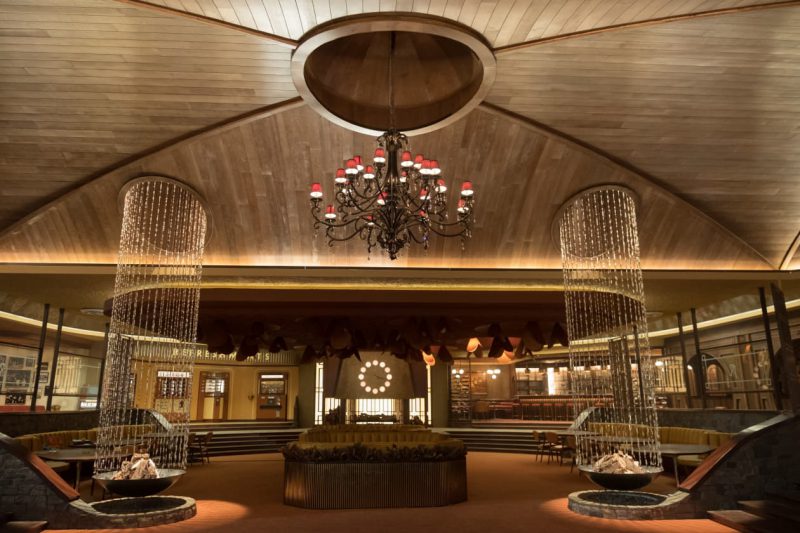 Movie Details
Director

Writer

Drew Goddard

Actors

Jeff Bridges, Cynthia Erivo, Dakota Johnson, Jon Hamm, Chris Hemsworth, Cailee Spaeny, Lewis Pullman, Nick Offerman, Xavier Dolan, Shea Whigham, Mark O'Brien, Charles Halford, Jim O'Heir, Gerry Nairn, Alvina August, London Morrison, Bethany Brown, Rebecca Toolan, Hannah Zirke, Billy Wickman, Charlotte Mosby, William B. Davis, Manny Jacinto, Tally Rodin, Sophia Lauchlin Hirt, Jonathan Whitesell, Synto D. Misati, Austin Abell, Katharine Isabelle, Sarah Smyth

Runtime

2 h 22 min

Release Date

4 October 2018

Genres

Overview

Lake Tahoe, 1969. Seven strangers, each one with a secret to bury, meet at El Royale, a decadent motel with a dark past. In the course of a fateful night, everyone will have one last shot at redemption.