EXTRACTION
Extraction is a better than the average action movie on Netflix, set in an interesting but saddening city, with lots of action (killing), and one long uncut action sequence.  That sums it up, but I'll go on.
Chris Hemsworth, aka Thor, is a mercenary named Tyler Rake.  He works with a high-tech firm lead by Nik (Golshifteh Farani), trying to save the son of India's largest drug lord, who is currently in jail. The son Ovi (Rudhraksh Jaiswal) is a prisoner of Bangladesh's largest drug lord in Dhaka, Bangladesh.  There is no money to pay the ransom, unbeknownst to the mercenary firm hired to extract the kid.
All the action takes place on the streets of Dhaka, the sixth most densely populated city in the world.  Background shots are Dhaka.  However, Extraction's action scenes are in various cities in India and Thailand.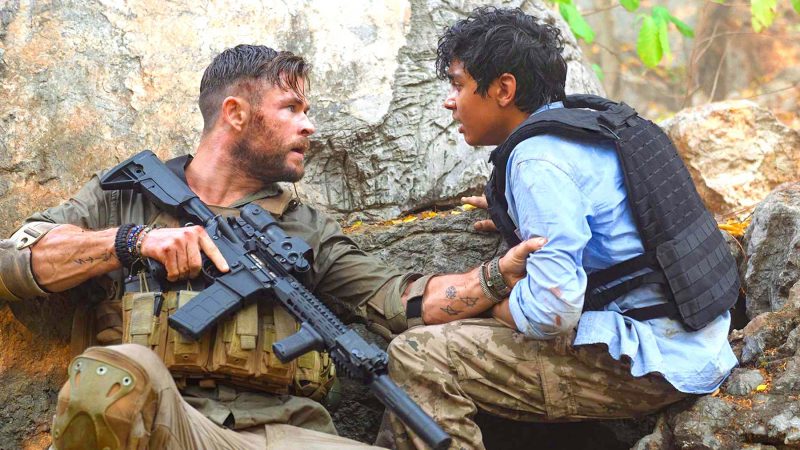 Once the extraction begins, there is non stop action for a while.  The high point of the movie is a 12-minute uncut scene from 34:52 to 46:30 (maybe there are one or two nicely hidden cuts). This continuous scene all takes place in the densely crowded city streets.  During this scene, combatants fall out of a second-story window, and the camera follows without cutting.  The knife fight following the fall is excellent.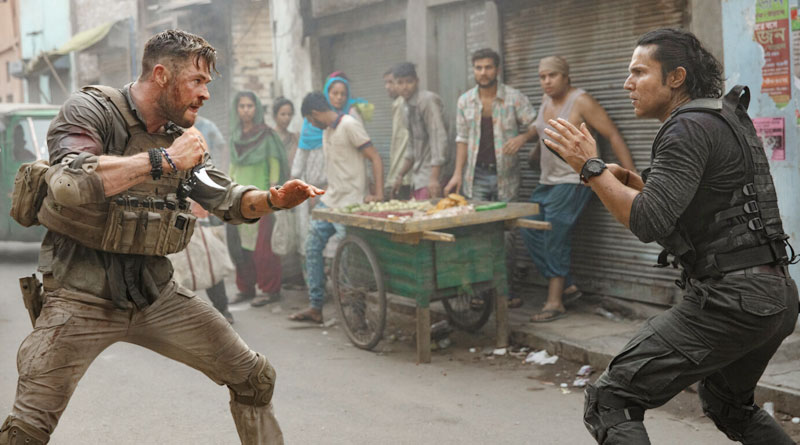 There is a respite from violence when Gaspar (David Harbour, Stranger Things) hides Tyler and the boy, this is when the weakest scene occurs.  Tyler and the boy Ovi have a heart-to-heart talk.  Tyler tries to show some sort of emotion, but it is hard to tell what he is trying to do.  Also, the sound level during this heart-to-heart is low; crank the volume up to hear.  If you can't hear this scene, you won't miss anything.
Extraction then gets back to the final action sequences.  You get to see Chris Hemsworth get beat up a couple of more times, which is kind of fun to see.
Extraction is strictly an action movie on Netflix.  Tyler's motivation and his past try to define him better, but those scenes are not necessary.  He's a mercenary, there are bad guys, and sometimes people don't pay you, that's all you need to know.
Movie Details
Director

Writer

Screenplay by Joe Russo; Story by Ande Parks, Joe Russo, and Anthony Russo

Actors

Chris Hemsworth, Rudhraksh Jaiswal, Randeep Hooda, Golshifteh Farahani, Pankaj Tripathi, David Harbour, Bryon Lerum, Ryder Lerum, Shivam Vichare, Piyush Khati, Sara Rumao, Aarti Kulkarni, Umakant Patil, Praveen Indu, Swapnil Kokam, Neha Mahajan, Pallas Prajapati, Shazia Naz Gill, Rob Collins, Wayne Blair, Adam Bessa, Sam Hargrave, Rayna Campbell, Patrick Newall, Chris Jai Alex, Vonzell Carter, Héctor Andreu, Priyanshu Painyuli, Sumeet Thakur, Projoy Majumdar, Sounak Kundu, Pabitra Mondal, Abhinav Srivastana, Suraj Rikame, Sudipto Ballav, Shataf Figar, Kundan Roy, Amritpal Singh, Yatendra Bahuguna, Debapriya Saha, Sujay Mondal, Surojit Mondal, Raj Santra, Anup Sharma, Christopher Romrell, Craig 'Chili' Palmer, Michael Lehr, Brandon McClary, Mutaza Khatawala, Alejandro Anduze, Aditya Paul, Shreya Vivek, Sharan Gulati, Shitij Gulati, Akshat Pathak, Tejeshwar Singh Mann

Runtime

1 h 56 min

Release Date

24 April 2020

Genres

Overview

Tyler Rake, a fearless mercenary who offers his services on the black market, embarks on a dangerous mission when he is hired to rescue the kidnapped son of a Mumbai crime lord…