THE SEAGULL
Brian Dennehy died this week. He was the big, burly, most of the time gruff character actor – I can relate to that – who died in the town I grew up in – New Haven, Connecticut. Therefore, I decided to watch one of his later-in-life films, The Seagull, a drama I would not normally have an interest in seeing, although I did enjoy it.
Anton Chekhov, the Russian playwright, wrote The Seagull as a play in 1895.
The Seagull is a comedy, technically, but it is not funny. Any comedic lines are sarcastic thoughts spouted by the depressed Masha (Elizabeth Moss, Us), the daughter of the country estate managers. Masha is a single woman, depressed, does drugs and vodka, dresses in black, and is loved by Mikhail (Michael Zegan, The Marvelous Mrs. Maisel, Frances Ha). Unfortunately for Mikhail, Masha loves the young tortured playwright Konstantin (Billy Howle, The Outlaw King).
Konstantine loves a neighbor Nina (Saoirse Ronan, The Lovely Bones), who proceeds to fall in love with the older playwright Boris (Corey Stoll, soon to be in West Side Story). However, Boris seemingly lives with Irina (Annette Bening, Danny Collins), the "I must be the center of attention" mother of Konstantin. You get the idea, everyone loves the wrong person, and Konstantine has some issues. This mostly unrequited love happens at the country estate owned by Sorin (Brian Dennehy, who has a long list of movies starting with Looking for Mr. Goodbar in 1977).  Remember, Brian Dennehy is the reason I saw this classic mammoth soap opera; I am happy I did.
This movie is the third The Seagull movie. The first was in the USA in 1968, followed by a Russian film in 1972. Based on past reviews, this remake is the best of the three. As with most good movies, this one messes with the timeline, something not done in the play. This Seagull begins two years in the future (the first half of Act IV of the original play), flashes back for a while (Acts I-III) and then ends where it began (end of Act IV). Shifting timelines are confusing at first, but is popular in good cinema these days.
The ensemble cast is amazing. All the characters are excellent in their roles, there is not a bad scene.  Without doubt, this ensemble cast is a good reason to watch this movie.
The Seagull is set at a country estate outside of Moscow, Russia.  However, it is weird because everyone has Russian names, but they all speak perfect English and they all look and act like they are from New England, on vacation in Vermont.
Brian Dennehy's death prompted me to watch the drama The Seagull.  His character Sorin had an appropo line as Sorin was approaching his death:
"I'm going to miss this old world, wish I had seen more of it."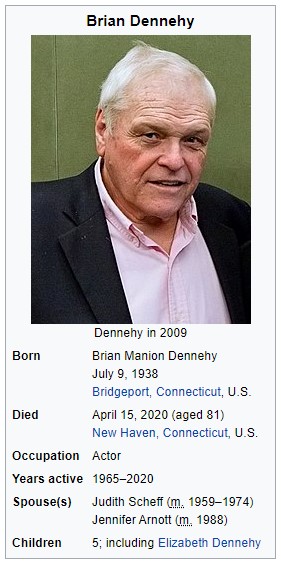 Movie Details
Director

Writer

Original Play: Anton Chekhov; Screenplay: Stephen Karam

Actors

Annette Bening, Saoirse Ronan, Corey Stoll, Elisabeth Moss, Mare Winningham, Jon Tenney, Glenn Fleshler, Michael Zegen, Billy Howle, Brian Dennehy, Ben Thompson, Thomas Hettrick, Barbara Tirrell, Paul Krisikos

Runtime

1 h 38 min

Release Date

11 May 2018

Genres

Overview

At a picturesque lakeside estate, a love triangle unfolds between the legendary diva Irina, her lover Boris, and the ingénue Nina.