THE MARVELOUS MRS. MAISEL
Season 1, 1958, Miriam "Midge" Maisel (Rachel Brosnahan) after a little exposure to her husband Joel's (Michael Zegen, Frances Ha) failed comedy routine at the "Gaslight," has a serendipitous moment and realizes that she is funny. She is hysterically funny, at the expense of her husband, her family, and herself. Her growth into a stand-up comic is completely unexpected based upon her comfortable middle class Jewish upbringing living. Midge currently lives in an upper West Side Brownstone in Manhattan, with her parents.
In Season 1 Midge becomes aware of her innate talent. Midge finds a diametrically opposite Manager, Suzie (Alex Borstein, who is incredible in every scene). Midge's perfect life also gets turned upside down.
Season 2 – 1959 – is so much more. The families are still trying to maintain the old 50's world that includes – for the 27th year in a row – spending two months at the wonderful cruise ship-like Catskills Steiner Mountain Resort. There you experience scene upon scene of weird, very funny behaviors that are beginning to fade as the 60's approach.
Midge is changing and – she doesn't know it yet – but she is helping start the 60's social revolution with her open and honest comedy act – at least I hope that's where this is going. After a summer in the Catskills, Midge and Manager Suzie go on the road. They have constant disasters on the road, but Midge's comedy routine stays consistently funny.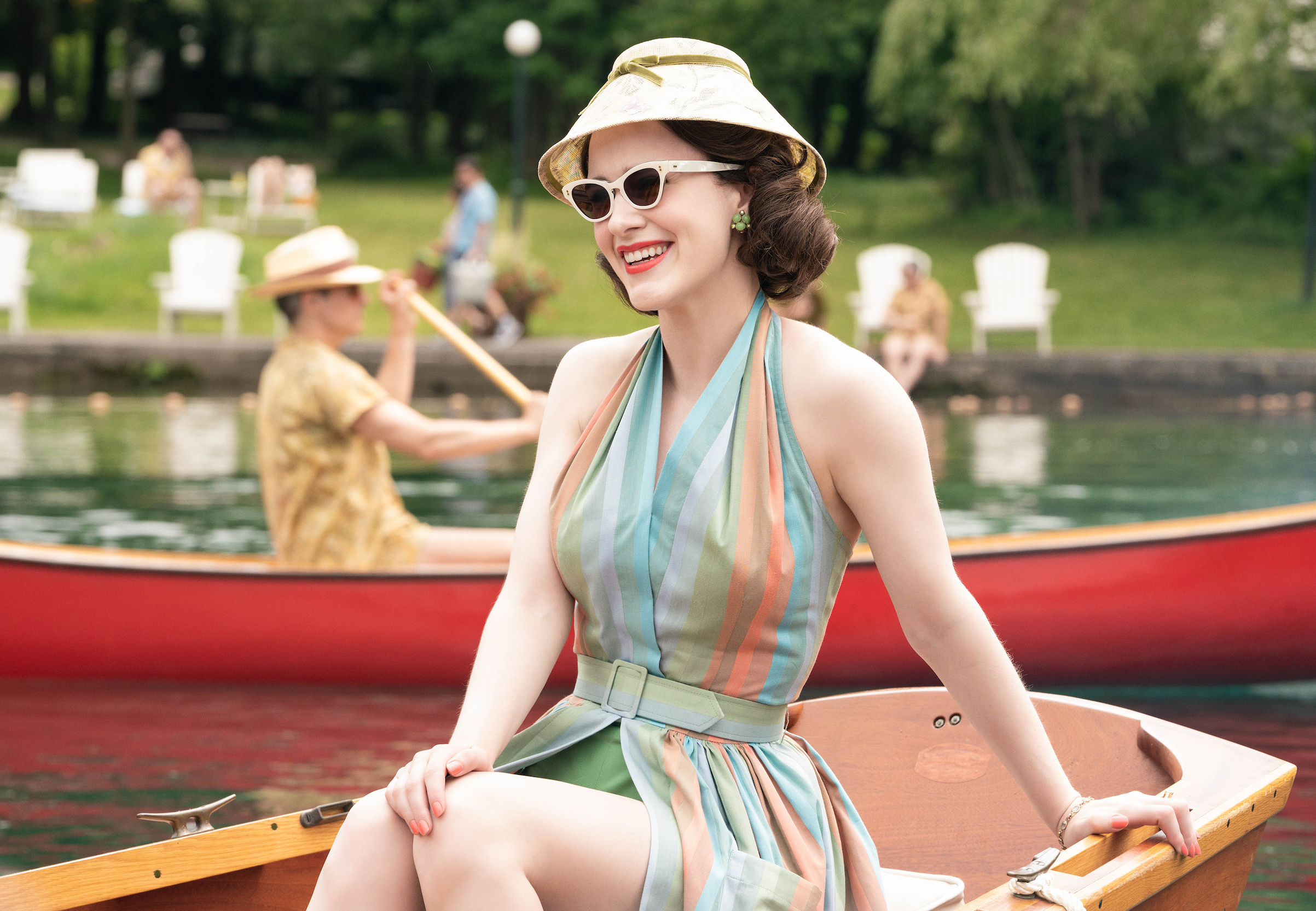 Rachel Brosnahan as Midge is the main reason to watch this series. She is perfect as an intelligent, yet a bit flighty, fast talking, part time Mom, who cares about people. Her relationship with her parents is perfect – weird – but perfect. Ms. Brosnahan's energy keeps this series moving forward. When she takes the stage and begins her comedy routine the energy gets even higher. Her comedy routines are truly funny.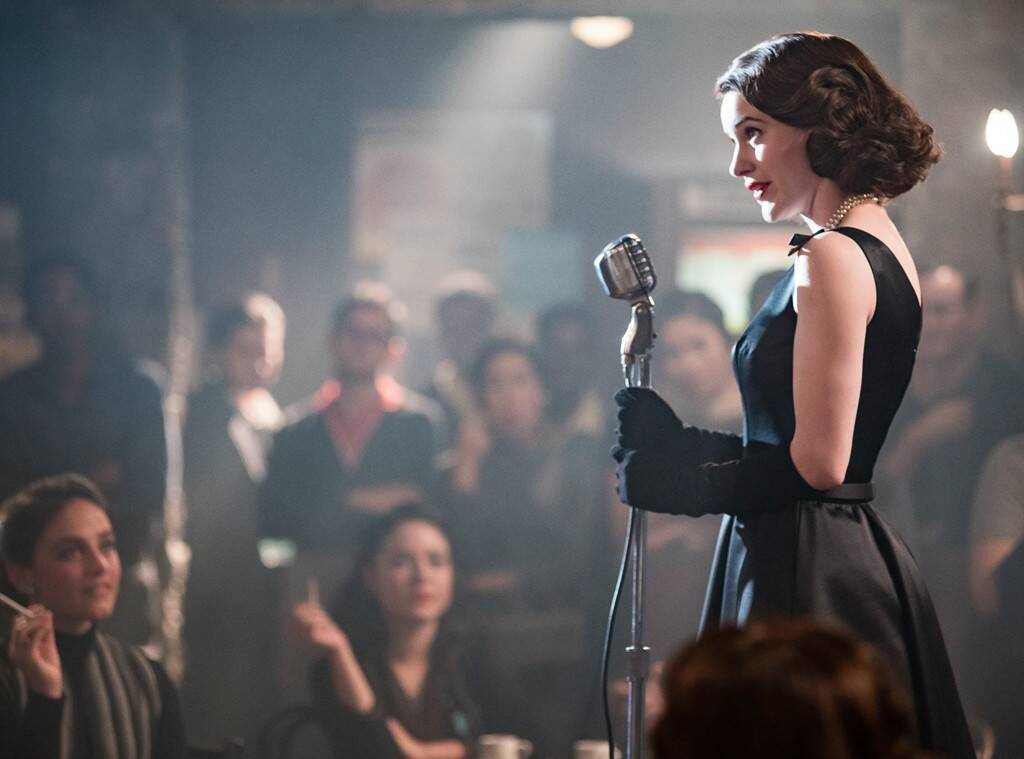 The main support characters, Tony Shalhoub & Marin Hinkle as Midge's parents and Kevin Pollak & Caroline Aaron as Joel's parents all have their own unique eccentric behaviors, usually due to living in the 1950's. In almost every scene they are hysterical every time they have a conversation.
The Marvelous Mrs. Maisel was created by Amy Sherman-Palladino and all but two episodes in the first two seasons are written by Amy Sherman- Palladino and/or her husband Daniel Palladino.
The Palladino's create some excellent scenes that allow you to understand the characters and their world. Some scenes last for several minutes with none or just one cut, all the time with fast talking and walking. There is a scene in the "Maisel and Roth Garment Company" factory with Joel and his father Moishe Maisel. The father and son are walking through the entire factory arguing about something or another. You understand more about their relationship, and how invested they are in their company.
Midge's world is defined in a two minute scene with only one cut (as the mail goes down the mail chute). The camera moves through the perfume department (where Midge wants to work) to the Operators in the basement (where Midge is working) –  amazing.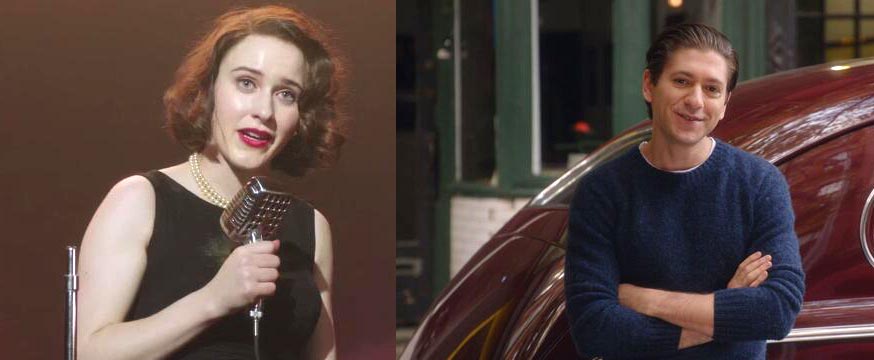 The Marvelous Mrs. Maisel is a marvelous and funny period piece comedy/drama written and influenced mainly by women that follows the fall and then the rise of Midge Maisel at the end of the 1950's. Hope the show continues for a few more seasons since I can't wait to see 1964.