HERSELF
Herself, an Irish drama, is a rollercoaster of emotions that does an excellent job examining domestic abuse—released on Prime Video January 8, 2021.
Sandra (Clare Dunne), a wonderful Mother of two girls, finally leaves her abusive husband.  She goes on public assistance, however it takes years to get into a house. So, Sandra decides to build her own do-it-yourself home.  Herself is the story of Sandra, all alone in the world with no money or friends, building herself back up after years of being abused by her husband.
It took Clare Dunne, who stars in the film as the mother Sandra, five years to co-write Herself.  Only 97 minutes long, the film presents, develops, and resolves a well-written and satisfying story.  Sandra grows a group of friends around her that you know instantly; there is no reason for character development.  One of Sandra's clients, Peggy (Harriet Walter, Killing Eve) becomes her savior by giving her land to build her home.  Their relationship is probably the most developed of all the friends.  Another stranger who helps is a Contractor named Aido (Conleth Hill, he played Varys, the former slave eunuch, in A Game of Thrones) who leads the team of friends to build the house.  Even though filmed entirely in Ireland, the people and the film feels real and relatable.
The only weak point, for non-Irish people watching, is the strong accents.  It is best to turn on the subtitles while viewing this film until you figure out the accent. It is much more satisfying with the subtitles.
As I began with, Herself is a rollercoaster of emotions.  Some scenes disturb you, and some are tense, but there are also inspiring and fulfilling scenes.  When Sandra's new friends raise the first pieces of her home, you have to feel satisfied.  The musical score is an integral part of this film and adds to the emotional swings.  Sia's music is prominent in at least two scenes.
Add Herself to the strong women movie list that includes Close  (my favorite), Furie, Ocean's 8, Annihilation, Tomb Raider, and The Old Guard – all movies showcasing strong women.  Herself is an excellent Irish drama about a strong and loving mother working hard and overcoming domestic abuse.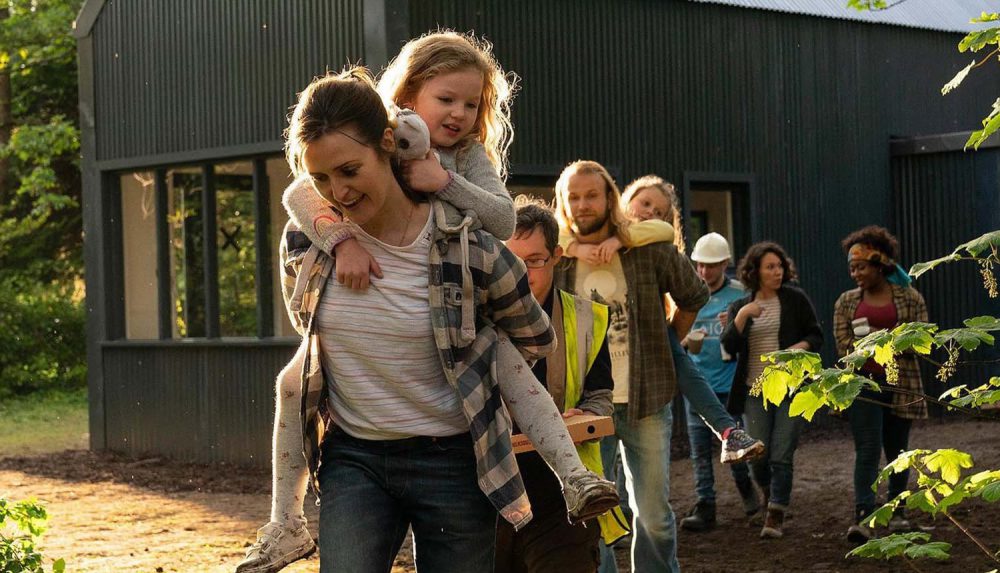 Meitheal ( Irish pronunciation: [ˈmɛhəl]) is the Irish word that describes the old Irish tradition where people in rural communities gathered together on a neighbor's farm to help save the hay or some other crop. Each person would help their neighbor, who would in turn reciprocate.
Movie Details
Director

Writer

Malcolm Campbell, Clare Dunne

Actors

Clare Dunne, Molly McCann, Ruby Rose O'Hara, Ian Lloyd Anderson, Shadaan Felfeli, Cathy Belton, Art Kearns, Sarah J. Kinlen, ERICKA ROE, Anita Petry, Lorcan Cranitch, Tina Kellegher, Donking Rongavilla, Ger Carey, Damien Kearney, Sean Duggan, Conleth Hill, Rebecca O'Mara, Peter Gaynor, Dmitry Vinokurov

Runtime

1 h 37 min

Release Date

26 November 2020

Genres

Overview

Struggling to provide her daughters with a safe, happy home, Sandra decides to build one - from scratch. Using all her ingenuity to make her ambitious dream a reality, Sandra draws together a community to lend a helping hand to build her house and ultimately recover her own sense of self.