THE OLD GUARD
The Old Guard is a more mature superhero action movie based upon an age 18+ comic book of the same name.  It is not from the Marvel or DC Universe; The Old Guard is a Skydance production distributed by Netflix.
Andromache of Scythia "Andy" (Charlize Theron), Booker (Matthias Schoenaerts), Joe (Marwan Kenzari), and Nicky (Luca Marinelli) are an ancient army of immortals, fighting together for hundreds of years. Their only superpower, they cannot die. They try to do the right thing for the world; they fight for good, die, but quickly heal and come back to life.  Quynh (Van Veronica Ngo) is the fifth immortal. She is lost at the bottom of the sea for the last 500 years in an Iron Maiden.  Drowning, awakening, and drowning again –the worst nightmare for an immortal. Even though immortals heal, the pain and suffering are real.
Andy finds and retrieves Nile Freeman (KiKi Layne, If Beale Street Could Talk) – a new immortal sensed by the group – before the world discovers her ability.  While teaching Nile about immortality, there is a subplot about the loneliness of outliving everyone you have ever loved and the fear of making contact with people.  Nile must come to terms with living for many centuries.
The tables turn when a paramilitary group – hired by a big pharma CEO Steven Merrick (Harry Melling, Dudley Dursley, in the Harry Potter series) – attack the immortals wanting the immortals' DNA.  Ex-CIA agent, James (Chiwetel Ejiofor, 12 Years a Slave), a friend of the immortals, helps big pharma.
The Old Guard is two hours of fast-paced action at several locations in the Middle East and France.  They get to the point quickly, ignoring a lot of details.  Remember, this originates from a comic book, so details and interferences are few.  There are never any crowds to cause an obstruction or to shoot videos that go viral.  The authorities are scarce and never interfere.  The Old Guard keeps you focused on the immortals, their problems, and fighting skills.
Charlize Theron, as Andy is excellent in this movie.  Based on the injuries she received during the filming, she did a lot of her stunts.  She is the oldest immortal, the leader of the group, and appears to be the most skilled at killing.  There are several scenes where Charlize is in hand-to-hand combat performing PG-13 killing, not too bloody or horrific.  There is one notable scene in a drug-running plane when the new immortal Nile tries to escape, leading to an excellent physical fight in a small space with Charlize and KiKi Layne.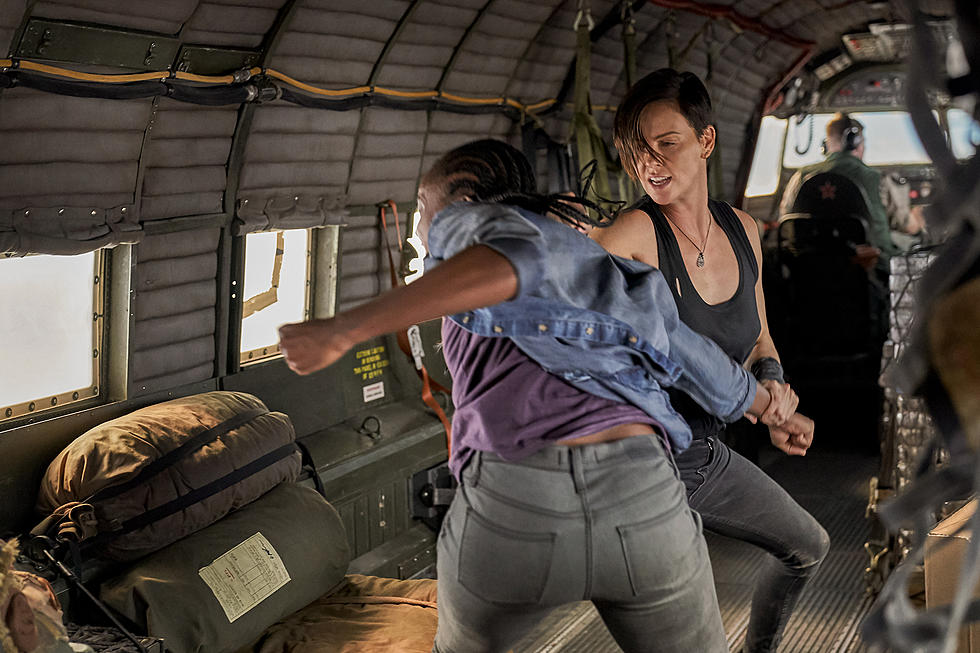 All of the actors transform their characters into complex immortals.  You get to know something about all of them.  Booker is the closest to Andy, but he has been alone since the 1800s.  He still struggles over the loss of his original family, the family he started before realizing he is immortal.  Matthias Schoenaerts as Booker tearfully shows his pain.
The LGBTQ is represented well in this superhero action movie.  Joe and Nicky have been a couple since the Crusades. Joe makes a landmark speech in the superhero world about his relationship with Nicky; he comes off as a wise elder.
However, the CEO and the paramilitary fighting against the immortals are all one dimension and stereotypic.  The CEO is a hateful money-hungry little boy who has lost sight of the science and just wants to beat his competitors.  The paramilitary men are well dressed, nameless fodder, easily killed.
The Old Guard, the superhero action movie sets itself up well for a sequel, a sequel with Quynh (Van Veronica Ngo, Furie), may even be better.  Watch the credits at the end; they confirm the immortals' goodness.
Movie Details
Director

Writer

Screenplay: Greg Rucka; Based on The Old Guard by Greg Rucka & Leandro Fernández

Actors

Charlize Theron, KiKi Layne, Matthias Schoenaerts, Marwan Kenzari, Luca Marinelli, Chiwetel Ejiofor, Harry Melling, Van Veronica Ngo, Natacha Karam, Anamaria Marinca, Joey Ansah, Adam Collins, Russell Balogh, Obie Matthew, Mette Towley, Micheal Ward, Shala Nyx, Majid Essaidi, Andrei Zayats, Olivia Ross, Peter Basham, Nadia Niazi, Mehdi Lamrini, Aanya Hirdaramani, Jordan Holland, Orlando Seale, Simon Chandler, Jane Fowler, Yassine Zeroual, Adam Basil, Peter Brooke, Jill Buchanan, Adam Collins, Jill De Quincey, Talal El Moustaghfir, Tuncay Gunes, Steve Healey, Rich Lawton, Jorge Leon Martinez, Martyn Mayger, Chereena Miller, Seema Morar, Oliver Simms, Jimmy Star, Alfredo Tavares, Rutvig Vaid

Runtime

2 h 04 min

Release Date

10 July 2020

Genres

Overview

Four undying warriors who've secretly protected humanity for centuries become targeted for their mysterious powers just as they discover a new immortal.