Death on the Nile
Free on HBO Max
DEATH ON THE NILE
The detective Hercule Poirot (Kenneth Branagh) is back, traveling with a group of entitled and resentful rich people as he attempts to solve a murder committed during a wedding celebration in the newest installment of the Agatha Christie murder mystery series, Death on the Nile. Hindsight shows that the viewer sees all the clues needed to solve the crime if the viewer makes a couple of wild out-of-the-box assumptions, which is typical for any murder mystery.
The wedding celebration includes Linnet Ridgeway-Doyle (Gal Godot), the richest of the rich and the host of her wedding party, her new husband, Simon Doyle (Armie Hammer), ten guests – and one interloper – all with some twisted story and bitterness toward Linnet. Linnet's best friend Jackie (Emma Mackey) – the interloper previously engaged to Linnet's new husband – is following the wedding party looking threatening. To further add intrigue, Linnet's former fiancé, Dr. Linus Windlesham (the unrecognizable and skulking Russell Brand), is also a guest at the wedding celebration. Other notable characters include Annette Bening as Euphemia, the mother of Bouc (Tom Bateman), secretly in love with Rosalie Otterbourne (Letitia Wright), the business manager of the blues musician onboard, Salome Otterbourne. More on the music in the Music Post Note.
It may sound like a soap opera, but it is not—just a bunch of intertwined characters all with grudges against Linnet but willing to drink her champagne.
During the film's first half, you may be put off watching the ultra-rich traveling through 1937 Egypt, desecrating ancient monuments. Without a single Egyptian insight, the rich climb the outside of the pyramids while flying a kite and then defile the Abu Simbel temple. All this is through the overuse of the green screen (computer-generated scenes).
But the second half of the movie gets intriguing, and there are a few scenes with some decent acting. Russell Brand has a short dramatic scene, although he won't be winning an Oscar for it. Letitia Wright shows some acting skills in a couple of scenes. Of course, as usual, it all culminates in Hercule Peroit uncovering the crime(s) with all the characters present.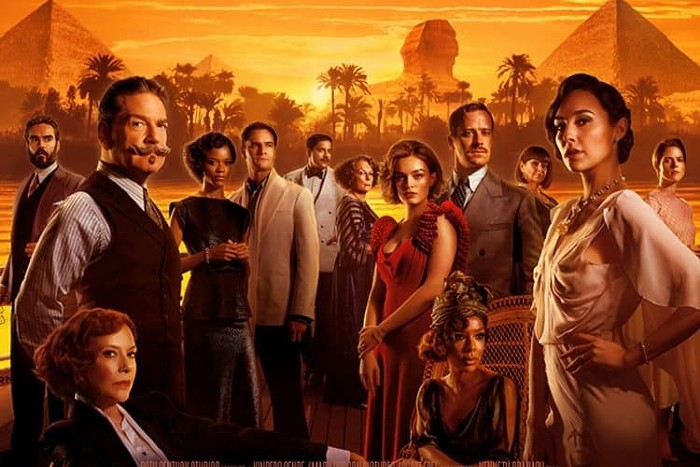 Death on the Nile is a typical Agatha Christie murder mystery with Hercule Poirot and too much green screen work. They needed to fill some time, so the film begins with a WWI scene about the origins of a couple of Hercule Poirot's peculiarities.
MUSIC POST NOTE:
Three of the four songs featured in Death on the Nile – the first three performed live – are sung by Sister Loretta Tharpe, and she wrote two of those songs. Salome Otterbourne (Sophie Okonedo) lip syncs the songs in the film.
Almost as ancient as the pyramids, few people know that Sister Loretta is considered the Godmother of Rock & Roll and was inducted into the Rock & Roll Hall of Fame in 2018.
Chuck Berry, called the "Father of Rock & Roll," was 12-years old when Sister Loretta Thrace got her first record contract at 23-years old.
"Tharpe was a pioneer in her guitar technique; she was among the first popular recording artists to use heavy distortion on her electric guitar, presaging the rise of electric blues. Her guitar playing technique had a profound influence on the development of British blues in the 1960s…."
(Long, Chris (7 May 2014)."Muddy Waters and Sister Rosetta Tharpe's 'mind-blowing' station show." BBC.com. Retrieved 8 December 2017.
Shout, Sister, Shout, a musical about the life of Sister Loretta Tharpe, was the last play I saw before COVID shut down theaters for two years.
After seven minutes of Death on the Nile final credits:
"The making and authorized distribution of this film supported over 13,000 jobs and involved hundreds of thousands of work hours."
April 5, 2022
Movie Details
Director

Writer

Screenplay by Michael Green. Based on Death on the Nile by Agatha Christie.

Actors

Kenneth Branagh, Gal Gadot, Armie Hammer, Tom Bateman, Letitia Wright, Sophie Okonedo, Jennifer Saunders, Russell Brand, Emma Mackey, Annette Bening, Dawn French, Rose Leslie, Ali Fazal, Michael Rouse, Alaa Safi, Orlando Seale, Charlie Anson, Danny Hughes, Sam James Page, James Schofield, George Jaques, Jonah Rzeskiewicz, Eleanor de Rohan, Susannah Fielding, Adam Garcia, Rick Warden, Noel White, Niamh Lynch, Rosie Dwyer, Nari Blair-Mangat, Sid Sagar, Brenda-Jane Newhouse, Rhiannon Clements, Daniel Cook, Heider Ali, Hayat Kamille, Crispin Letts, Victor Alli, Rachel Feeney, Sarah Eve, Aron Julius, Francis Lovehall, Stacy Abalogun, Naveed Khan, Katie Smale, Kemi Awoderu

Runtime

2 h 07 min

Release Date

9 February 2022

Genres

Overview

Belgian sleuth Hercule Poirot boards a glamorous river steamer with enough champagne to fill the Nile. But his Egyptian vacation turns into a thrilling search for a murderer when a picture-perfect couple's idyllic honeymoon is tragically cut short.