THE POWER OF THE DOG
Thought to be one of the best movies of the year, The Power of the Dog is a psychological drama set in 1925 Montana.  Think of the TV series Yellowstone in the 1920s with less soap opera, less action, but more male machismo intimidation of all things good, and a deep layer of repressed sexual feelings. This psychological drama, The Power of the Dog, is set in the wild American West, although shot in New Zealand, the current home of the film's Director and screenplay writer Jane Champion.  Ms. Champion's films receive much praise since she is the first female to receive the Palme d'Or, the highest prize awarded at the Cannes Film Festival.  Ms. Champion is also the second woman nominated by the Academy for Best Director. Both awards are for her 1993 film, The Piano.
The Power of the Dog is best seen on a theater screen to appreciate the sweeping panoramas and the subtly changing light on the landscape.  I viewed it alone on a small computer screen, and I am sad to say, I occasionally skipped ahead out of boredom.  Skipping ahead does not mean the movie is terrible; I was in the wrong mood and had the easy ability to move the film along.  For example, Phil (Benedict Cumberbatch) caresses himself with a cloth for 146 seconds. Sure, he is bare-chested, and towards the end of the caressing, you realize the cloth is the handkerchief that once belonged to Bronco Henry, Phil's former idol, lover, or repressed love, the cause of Phil's conflicted inner thoughts. However, I can say the film is much better during the second watch on a bigger screen, although that caressing scene may be too long.
The first half of The Power of the Dog is for character development.  Phil (Benedict Cumberbatch) and his brother George (Jesse Plemons, The Hostiles) are wealthy ranchers; George is all business, Phil is all macho rancher. Jesse falls in love with Rose (Kirsten Dunst) and brings her and her adult son Peter (Kodi Smit-McPhee) to their ranch.  Peter stands out since he is intelligent, creative, observative, and effeminate.  Phil proceeds to intimidate and insult all three. Phil's ire leads to constant worry-filled tension in the film.  After the 146-second handkerchief caressing scene, Phil's attitude toward Peter changes, but the tension and uncertainty remain.
The second half of the film brings an excellent performance by Kirsten Dunst. Her character Rose spirals downward, copes using alcohol, and constantly stresses over her son Peter's well-being. This situation leads Kirsten Dunst to a refreshingly painful performance and a possible Oscar nomination.
Jesse Plemons, as George plays his typical support character who takes the abuse from his brother, and it "pains him to hitch two words together."
Benedict Cumberbatch, as Phil, is legit as a bully western rancher, a completely different role for the English actor. It is difficult to win an Oscar when portraying a mean and awful character, but Cumberbatch's performance moving from a spur stomping bully to one who cautiously begins to accept Peter may win him an Oscar nomination.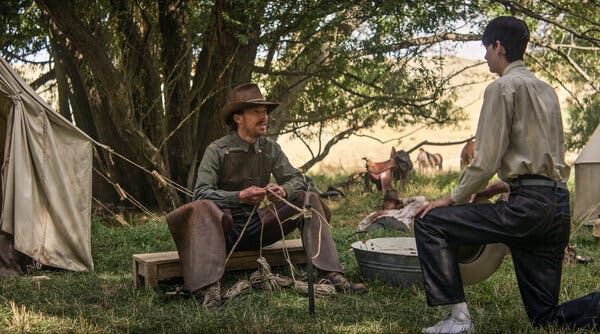 Even though I did not enjoy the film the first time, The Power of the Dog script is beautifully written by a respected and proven director and writer, Jane Champion.  It contains strong character development and unfolds slowly into a tension-filled story with depth. Because of the script and the performances of Cumberbatch and Dunst, the film should receive nominations for several Oscars; best picture, best actor, and actress are possible.
Movie Details
Director

Writer

Screenplay by Jane Campion. Based on The Power of the Dog by Thomas Savage.

Actors

Benedict Cumberbatch, Kirsten Dunst, Jesse Plemons, Kodi Smit-McPhee, Thomasin McKenzie, Frances Conroy, Keith Carradine, Genevieve Lemon, Adam Beach, Peter Carroll, Sean Keenan, Ken Radley, George Mason, Ramontay McConnell, David Denis, Cohen Holloway, Max Mata, Josh Owen, Alistair Sewell, Eddie Campbell, Alice Englert, Jacque Drew, Yvette Parsons, Bryony Skillington, Aislinn Furlong, Daniel Cleary, Richard Falkner, Tatum Warren-Ngata, Yvette Reid, Alice May Connolly, Stephen Lovatt, Stephen Bain, Ella Hope-Higginson, Piimio Mei, Edith Poor, Vadim Ledogorov, Julie Forsyth, Alison Bruce, Karl Willetts, David T. Lim, Maeson Stone Skuggedal, Ian Harcourt

Runtime

2 h 07 min

Release Date

13 September 2021

Genres

Overview

A domineering but charismatic rancher wages a war of intimidation on his brother's new wife and her teen son, until long-hidden secrets come to light.