My Spy
Directed by Peter Segal
MY SPY
My Spy is the eleventh comedy directed by Peter Segal, the only type of movie he directs.   Starting in 1994, Mr. Segal directed buddy comedies (Anger Management 2003), sports comedies (The Longest Yard 2005), sci-fi comedies (Nutty Professor II: The Klumps 2000), adventure comedies (Tommy Boy 1995), and several romantic comedies (50 First Dates 2005).  Segal has comedies figured out.  In My Spy, Peter Segal directs a formulaic action, spy, romantic comedy starring John Bautista.
Formulaic since, at some point, when a wrestler (Bautista, John Cena, The Rock), or bodybuilder (Schwarzenegger) becomes an actor, they are paired with an adorable kid in a film.  First time I remember seeing this was Kindergarten Cop (1990) with Arnold Schwarzenegger.  Take a large, awkward man and have him partner with a kid. The kid undercuts his brawn with cuteness and wit, making him more likable.
I'm not saying is bad. In this case, it was alright, it worked.  My Spy made me laugh a bit throughout the film.  It was predictable and not very memorable, but it was fun. And, of course, a heartwarming ending.
John Bautista (Avengers Endgame & Infinity War) is JJ, a retired Army Ranger who is now a rookie spy with the CIA. After the opening action scene, complete with explosions and PG-13 violence, all set to opera music, JJ goes to Philadelphia for reconnaissance; to him, a demotion.  JJ and the tech Bobbi (Kristeen Schaal) must watch a mother, Kate (Parisa Fitz-Henley, Fantasy Island, TV's Midnight, Texas), and her 9-year-old daughter Sophie (Chloe Coleman). Mom was once married to a dead crime figure involved with an ongoing  case in Berlin. Also includes a non-funny Ken Jeong as JJ's CIA boss.
Things get weirdly funny when the daughter Sophie finds one of the recon cameras and tracks it back to JJ & Bobbi's room.  Yeah, not real, but funny when the 9-year old Chloe confronts the big Bautista and makes him back down.  She does this so many times it goes from funny to predicable to annoying.
Kristeen Schaal (Bill & Ted Face the Music, TV's The Last Man on Earth), as the IH tech, has a few funny lines, but only a little room to act.  She has two emotions, 1) Envious that the little girl is getting the attention and her CIA partner is ignoring her, and 2) Being impressed with the little girl and repeatedly saying, "She's good."  I was hoping she would be funnier.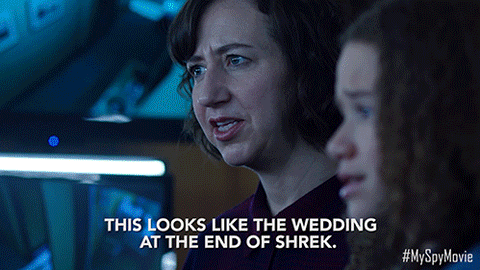 Bautista acting amounts to self-deprecating humor and caving into the whims of a little girl.  However, as the movie starts to get boring, he becomes involved with the Mom and shows his warm side a bit.  Bautista can present a warm and caring air, at least for a little while.  I'll watch him in his next movie, although I hope it is another Avengers film.
My Spy is a predictable, and not too offensive formulaic action, spy, romantic comedy with a warm ending—an excellent way to spend some time with the kids, older kids.
Movie Details
Director

Writer

Erich Hoeber, Jon Hoeber

Actors

Dave Bautista, Chloe Coleman, Kristen Schaal, Parisa Fitz-Henley, Ken Jeong, Nicola Correia Damude, Laura Cilevitz, Sima Fisher, Miranda Miller, Sukhman Gill, Michelle McLeod, Vieslav Krystyan, Rakhee Morzaria, Lindsay Mullan, Ali Hassan, Robin Archer

Runtime

1 h 42 min

Release Date

9 January 2020

Genres

Overview

A hardened CIA operative finds himself at the mercy of a precocious 9-year-old girl, having been sent undercover to surveil her family.