Ford v Ferrari
"7,000 RPM Go like hell!"
FORD v FERRARI
In the race to the award season, Christian Bale may edge out Matt Damon in this semi-historical Ford v Ferrari car racing drama about the years leading up to the 1966 24 Hours of Le Mans.  This Grand Prix of Endurance auto race in France had always been won by European companies, Ferrari, Aston Martin (1), Jaguar, Mercedes-Benz (1).
In the 1950's, Henry Ford II (Tracy Letts, The Post, Lady Bird, Little Women) gets the itch to first try to buy Ferrari and then try to beat them with a Ford car.  He and his two executives Lee Iacocca (Jon Bernthal, Baby Driver, The Peanut Butter Falcon) and the cocky Leo Beebe (Josh Lucas, Sweet Home Alabama, Breakthrough) begin the process.  They team up with Carroll Shelby (Matt Damon) a former driver – who now makes cars for high end buyers – to develop the best car in the world, the Ford GT40.
Shelby demands that Ken Miles (Christian Bales) an irritable professional racer and sort of a "car whisperer" help develop and drive the car.
The Characters:
The racing scenes are extensive, the best I have ever seen, especially when seen in Imax. Every racing movie aims to have you experience racing at 200+ mph.  Ford v Ferrari easily succeeds at that. But this is a character driven story about corporate America working with an innovative small company that has a lot of personality.  You get to know and understand these characters so well that you not only feel like you are going 200 mph, but you appreciate the dedication and hard work it takes to get to 200 mph.
The acting is superb.  The corporate executives are what you expect.  The execs are greedy, demanding, drink during the day, big egos and mean.  But the acting of Christian Bale and Matt Damon, the independent entrepreneurs, especially when together, is just perfect.  They fight, disagree, and at one point are on the ground "fighting" like middle-aged men, but they show great loyalty and respect throughout.
The almost unrecognizable Christian Bale as Ken Miles pushes the character further than Matt Damon.  Christian Bale again reengineers himself for this role, losing 70 pounds since his last movie Vice.  He portrays an obsessive, hard to work with race driver who can sense what the car needs.  He remains loving to his supportive wife Mollie Miles (Caitriona Balfe, Outlander) and his adoring son Peter (Noah Jupe, A Quiet Place, Honey Boy).  The Ken Miles character helps you best understand what driving at 200 mph means, more than the Imax.  You become obsessed with racing through this character.
Matt Damon as the sometimes, soft-spoken Texan, Carroll Shelby donning a black cowboy hat emotes confidence and is willing to gamble it all so he can do it his way.  Damon is solid as usual and becomes Carroll Shelby. He is the leading protagonist in Ford v Ferrari that holds everything together.  The Shelby role satisfies the engineers in us watching while he develops an amazing car.  He then pushes the car to the limit, 7000 RPM+.
To further help understand the feeling of speed, Shelby takes Henry Ford for a ride in the Ford GT40.  Henry breaks down inside the car and can't contain his emotions.  "I had no idea" Henry II says through his tears of joy and fear.  An amusing but important scene.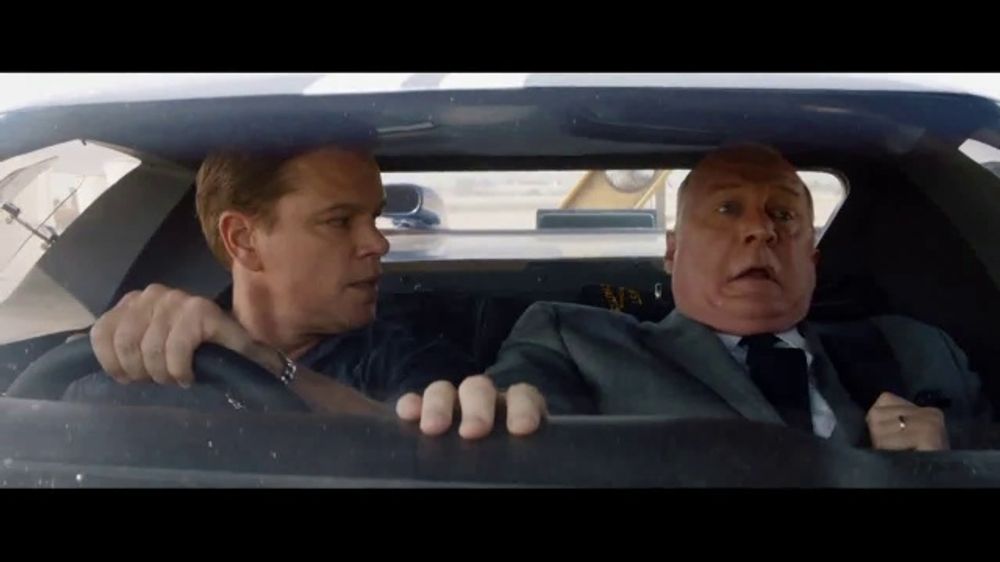 It takes 2 hours for the Ford v Ferrari car racing drama to get to the final race.  It is an enjoyable 2 hours, with plenty of racing, but the final race does not disappoint.  This should be nominated for the best picture of the year, and Christian Bale nominated as best supporting actor.
Movie Details
Director

Writer

Jason Keller

Actors

Matt Damon, Christian Bale, Jon Bernthal, Tracy Letts, Caitriona Balfe, Noah Jupe, Scott Rapp, Josh Lucas, Ray McKinnon, Stefania Spampinato, Wyatt Nash, Wallace Langham, Dallas Chandler, Jonathan LaPaglia, Rudolf Martin, Shawn Law, Remo Girone, J. J. Feild

Runtime

2 h 32 min

Release Date

10 October 2019

Genres

Overview

American car designer Carroll Shelby and the British-born driver Ken Miles work together to battle corporate interference, the laws of physics, and their own personal demons to build a revolutionary race car for Ford Motor Company and take on the dominating race cars of Enzo Ferrari at the 24 Hours of Le Mans in France in 1966.