BLINDSPOTTING
Blindspotting is a 2018 comedy-drama buddy film – heavier on the drama – set in the gentrifying parts of Oakland, California.  Daveed Diggs (Hamilton, Snowpiercer TV series) and Rafael Casal (Good Lord Bird) wrote, produced, and starred in Blindspotting, their first film taking ten years to write. This 2018 film is more relevant today – April 2021 – in light of the George Floyd movement.
Childhood friends Collins & Miles, in the film (and in real life), try to get through the last three days of Collins' (Daveed Diggs) probation.  Miles (Rafael Casal) is also his co-worker.  Both guys are hot heads, but Collins is controlling himself since he spent time in jail for felon assault.  Miles tends to lose control and, on an impulse, purchases a gun from his Uber driver.
Blindspotting is a gritty film that shows their interactions with Collins' ex-girl friend Val (Janina Gavankar, The Way Back) and Miles' current wife Ashley (Jasmine Jones, Marriage Story, Hamilton).  Emotions bubble beneath the surface throughout the entire film.  Miles' anger toward gentrification grows; the new residents do not know how to interpret his look versus who he is.  Collins struggles with witnessing a police shoot, peaking at confronting the police officer (Ethan Embry, Grace and Frankie, The First Man).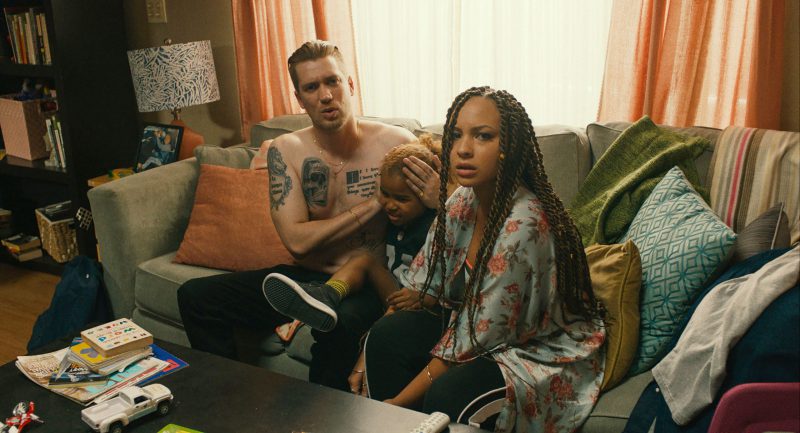 Photo by Foley Walkers/Lionsgate/Kobal/Shutterstock (9768868c)
Rafael Casal, Ziggy Baitinger, Jasmine Cephas Jones
"Blindspotting" Film – 2018
The four actors mentioned above are all tremendous talents in the music industry, television, films, and more.  Janina Gavanka was the first actress to use Twitter, signing up in 2006.  Daveed Diggs ran track at Brown University and broke the school record in the 110-meter hurdles with a time of 14.21 seconds.  Jasmine Jones sang America the Beautiful at the 2017 Super Bowl with her fellow Hamilton cast members. Finally, Rafael Casal has an excellent grip on the words fuck and motherfucker shouting them at least 91 times during Blindspotting.  I realize these facts have nothing to do with their acting ability. However, their presence in the film gives the film a very genuine, urban, contemporary feel.  This ensemble make a perfect cast for this gutsy film that seems to portray their world realistically (oh yeah, it's a comedy too).  The drama buddy-film Blindspotting is worth a watch if you enjoy socially-relevant dramas.
Movie Details
Director

Writer

Daveed Diggs, Rafael Casal

Actors

Daveed Diggs, Rafael Casal, Janina Gavankar, Jasmine Cephas Jones, Ethan Embry, Tisha Campbell-Martin, Utkarsh Ambudkar, Wayne Knight, Kevin Carroll, Lance Holloway, Nyambi Nyambi, Jon Chaffin, Margo Hall, Ziggy Baitinger, Travis Parker, Justin Chu Cary, Casey Adams, Michael Rhys Kan, Justin Liu, Aviel Ayoung, Rolanda D. Bell, John K. Moeslein, Sarah Kay, George Watsky, Kendra Andrews, Eduardo Ambriz DeColosio, Zack Duhame, Amanda Encelan, Rahul Gupta, Matt McAbee, Cameron Foxly, Luis Carlos Muñoz, Chris Harding, Rashida Clendening, Peter Fitzsimmons, Tina Gilton, Cassie Hendry, Camryn Howard, Charles Johnson, Dawayne Jordan, John Lobato, Yoli Mapp, Kelli McCrann, Sean Michael McGrory, Ke'Mari Moore, Brandon H. Morgan, Leland Orser, Geoffrey Quan, Molly Shaiken, Steven Wiig, Tywain Willis, Rayna Angélique, Brian Sampson, Jonathan Groff

Runtime

1 h 35 min

Release Date

20 July 2018

Genres

Overview

Collin must make it through his final three days of probation for a chance at a new beginning. He and his troublemaking childhood best friend, Miles, work as movers, and when Collin witnesses a police shooting, the two men's friendship is tested as they grapple with identity and their changed realities in the rapidly-gentrifying neighborhood they grew up in.