THE WAY BACK
No sports being played during March 2020, so a little taste of high school basketball can be found in the somber, drama, The Way Back.
Ben Affleck, as Jack Cunningham, is angry.  After his life fell apart, Jack's daily routine is; work, drink too much in his favorite dive bar, pass out, get up, and go to work.  Out of the blue, Father Devine (John Aylward, lots of TV roles) calls him and asks him to coach the boys' basketball team in midseason.  Yeah – I can see what you're thinking, a predictable story using basketball to save his life – you're close, it heads that way, but goes to several other places.
Ben Affleck made me sad watching him be Jack Cunnigham in this movie.  Affleck does a great job of trying to succeed, failing, and being angry.  He also plays a perfect drunk.

Jack put away the alcohol when he began to enjoy coaching; he found something meaningful and enjoyable again. There are some terrific sports scenes, especially when Jack starts to take control of the team, begins earning the respect of the players, and begins succeeding.  I've watched a lot of high school basketball in my life, and these games looked and felt genuine.  These games have the high school energy, cheering kids, and the high school feeling.  But even during the games, there are other actions at work that make the games more than just watching high school basketball.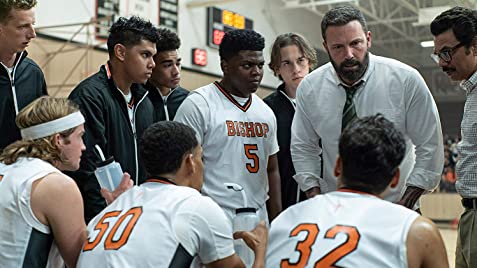 I'm dwelling on the basketball parts because we are all without basketball during the best time of the college basketball season (March 15 – April 6).  However, The Way Back is not a sports drama.  Sports is one tool that helps define Jack.
Jack had everything, a high school sports legend, a wife Angela (Janina Gavankar), kid, good job.  As the story slowly unfolds, Jack's horrors that haunt him become obvious.
The Way Back is a somber drama about loss and not being able to overcome the loss.
Movie Details
Director

Writer

Brad Ingelsby

Actors

Ben Affleck, Al Madrigal, Janina Gavankar, Michaela Watkins, Brandon Wilson, Will Ropp, Fernando Luis Vega, Charles Lott, Jr., Melvin Gregg, Ben Irving, Jeremy Radin, da'Vinchi, Nico David, Chris Bruno, Glynn Turman, T. K. Carter, Jeremy Ratchford, Jayne Taini, Sal Velez Jr., Yeniffer Behrens, Rachael Carpani, Caleb Thomas, Marlene Forte, Lukas Gage, Christine Horn, Edelyn Okano, Jay Abdo, Olivia Cannizzo, Christina Sergoyan, Tom Archdeacon, James P. Harkins, Rylee Cravens, Chieko Hidaka, Mike G., Jedediah Jenk, Troy Brookins, Josh Latzer, Shay Roundtree, Cynthia Rose Hall, Alexander Tassopoulos, Craig Reed, Chad Mountain, Brian Nuesi, Carly Schneider, R.J. Asher, Shantiel Alexis Vazquez, Justice Alan

Runtime

1 h 48 min

Release Date

5 March 2020

Genres

Overview

A former basketball all-star, who has lost his wife and family foundation in a struggle with addiction attempts to regain his soul and salvation by becoming the coach of a disparate ethnically mixed high school basketball team at his alma mater.