FIRST MAN
With all the craziness in the 1960's – the Vietnam War & the protests, the Pill, the Cold War, Civil Rights Act & riots, the assassinations, and the music – it is pretty amazing that the US orbits, then walks on the moon flying in analog space capsules filled with buttons, switches and wires. First Man is a drama that tells the story from 1961, when Neil Armstrong (Ryan Gosling) is first hired as a test pilot for NASA to test fly the experimental rocket plane, the X-15. NASA then hires Neil as an astronaut flying the 2-person Gemini spacecrafts, and then the 3-person Apollo space craft that eventually gets him to the moon in 1969.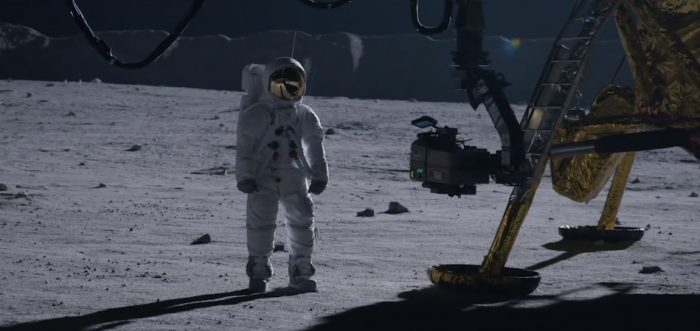 First Man shows us a great deal about the bravery of Neil Armstrong during his dangerous training missions, and his relationship with his wife, kids, and friends. We get to know Neil Armstrong, but not a lot about his friends and colleagues. First Man shows that being a brave astronaut willing to risk your life for NASA while performing dangerous test missions does not make you an exciting person. It also does not make for an exciting superhero movie either; the movie tends to get a bit boring in places and drags a little over the more than 2 hours in length. Ryan Gosling does a fine job of acting like a quiet, brave, boring, distant, test pilot.
The movie is worth seeing for its historic value alone, and there are exciting scenes of Neil testing things, which usually means going at hypersonic speeds, or falling out of the sky towards his death. It is also interesting to revisit the 60's and to see how much NASA had to learn to reach the moon.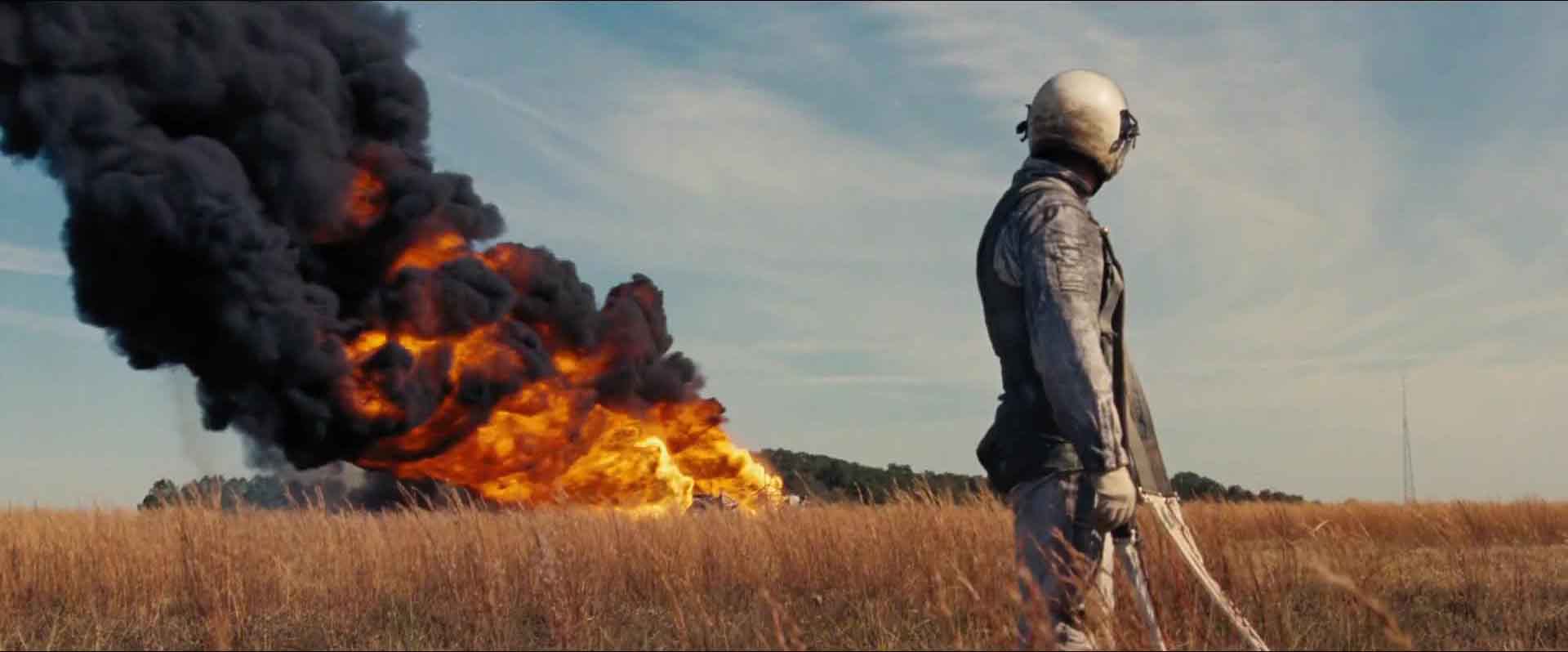 The Women:
The astronaut's wives include Janet Armstrong & Marilyn See (Claire Foy & Kris Swanberg).  They show us the great stress the wives are under. The women are not given enough time. This is not their story, it's boring, brave Neil's story.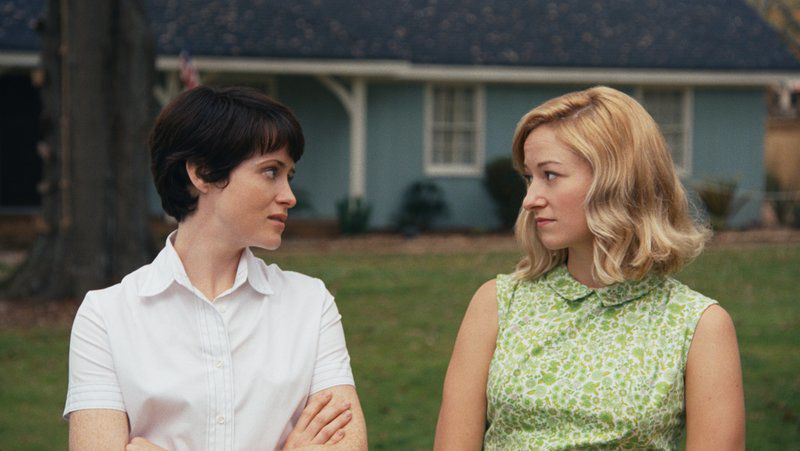 The wives' stress, and the rinky-dink nature of the whole endeavor, is best shown when NASA stops the live feed to the wives during a minor problem with a docking maneuver. Janet Armstrong becomes enraged.  Janet confronts the NASA officials and screams, "You're a bunch of boys making models out of balsa wood, you don't have things under control." She is right, First Man shows how tenuous all these flights are, how experimental everything is, and the great dangers and risks assumed by each astronaut. The flights and the history seem very authentic and there are times when you get to feel what it is like to climb into a confined space on top of a rocket.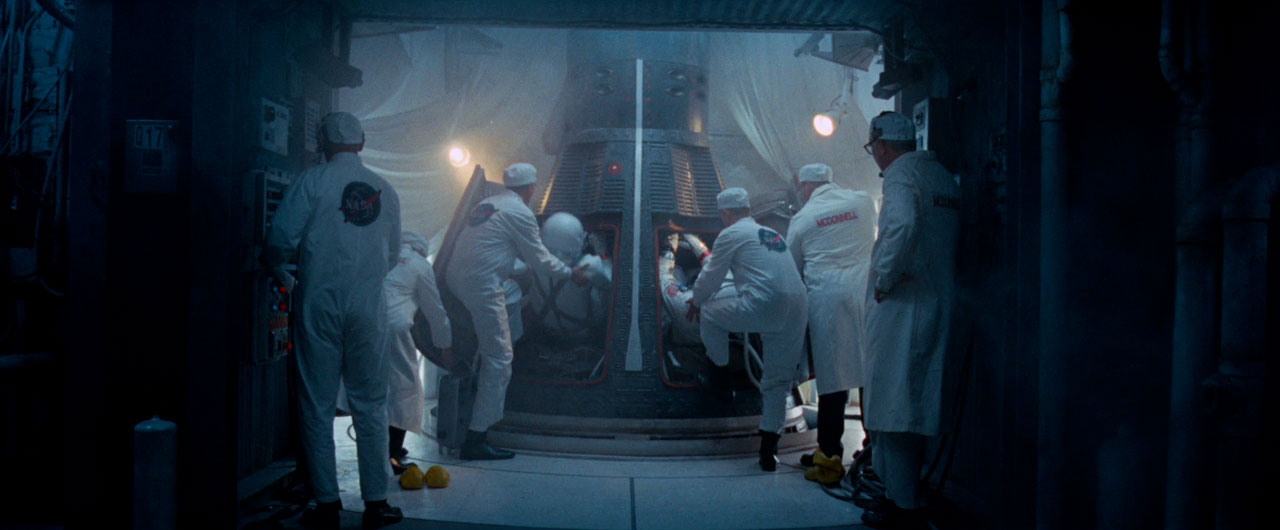 The last 40 minutes of the movie is the landing on the moon. You waited an hour and a half for this to happen, so it is worth watching Neil land and walk on the moon – First Man did win an Oscar in 2019 for Visual Effects.
Movie Details
Director

Writer

Screenplay by Josh Singer; Based on First Man: The Life of Neil A. Armstrong by James R. Hansen

Actors

Ryan Gosling, Claire Foy, Jason Clarke, Kyle Chandler, Corey Stoll, Patrick Fugit, Christopher Abbott, Ciarán Hinds, Olivia Hamilton, Pablo Schreiber, Shea Whigham, Lukas Haas, Ethan Embry, Brian d'Arcy James, Cory Michael Smith, Kris Swanberg, Gavin Warren, Luke Winters, Connor Blodgett, Lucy Stafford, J.D. Evermore, Leon Bridges, Steve Coulter, Skyler Bible, William Gregory Lee, Choppy Guillotte, Braydyn Nash Helms, Edmund Grant, Callie Brown, Claire Smith, Brady Smith, John David Whalen, Matthew Glave, Rodney J. Hobbs, Kermit Rolison, Willie Repoley, Ben Owen, Jim Stearns, James H. Williams, William G. Tomek, Helen S. Jackson, Ambrit Millhouse, Mark Armstrong, Kevin Buttimer, Dustin Lewis, Robert Hatch, Anna Chazelle, Tyner Rushing, Myra Brown, Ronald Hicks, Lawrence Jonasson, Irina Labouz, Anthony Paolucci, Philip Boyd, Stephanie Turner, Timothy Batten, Aurelien Gaya, Todd Truley, Mark Kelly, Tim Olcott, Andrea Maria Hintermaier, Jamie Anne Allman, Charles Carroll, Brian Mahoney, Donald Watkins, Tess Oakland, Michael Lee Kimel, Ryan Clay Forbes, Joshua Powell, Thomas Clay Strickland, Brad Kitchen, Tim Harper, Andrew Armstrong, Kevin Johnson, Damian Lovello, Nelson Bonilla, Shawn Eric Jones, Andrew Stahl, Mark Kirkman, Brian David McCay, Mark Schlichting, Mark Yurgil, Andrew Buckman, Christopher Sgubin, Greg Puckett, Perry Zulu Jr., Kent Wagner, Caroline Davis, Katelyn Davis, George Linkenback

Runtime

2 h 21 min

Release Date

11 October 2018

Genres

Overview

A look at the life of the astronaut, Neil Armstrong, and the legendary space mission that led him to become the first man to walk on the Moon on July 20, 1969.