THE SQUID AND THE WHALE
The Squid and the Whale is Noah Baumbach's 2005 Indie movie about the breakdown of a marriage and the effects on the children. Main reason I watched was to prepare for Noah's newest divorce film – Marriage Story – scheduled for release to theaters in November 2019 and streaming through Netflix in December 2019.
The Squid and the Whale stars Jeff Daniels & Laura Linney as Bernard and Joan Berkman, the parents of Walt (Jessie Eisenberg) and Frank (good name) played by a 14-year old Owen Kline. Both parents have Doctorates in Literature but only Bernard is the insufferable intellectual. Bernard always lets people know he is smarter than they are, and always gives orders and makes judgements. Bernard is also hiding the fact that he is having trouble getting his newest book published. Joan, the wife, is an okay mom, but has been straying from the marriage for several years. She also is being published for the first time. All these pressures and personalities rightfully bring the marriage down.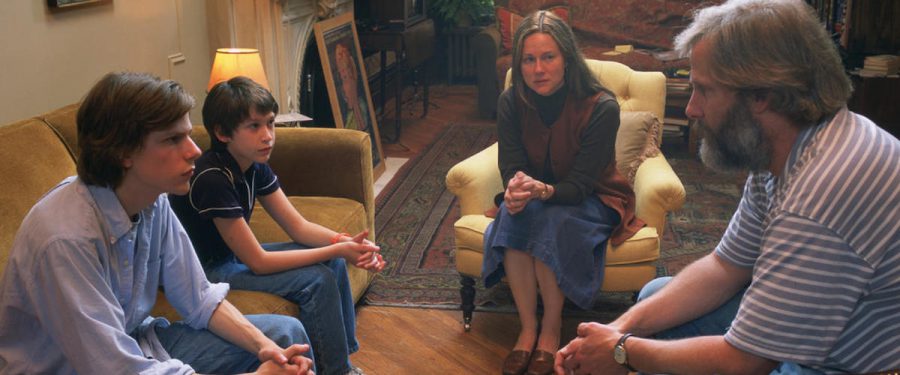 The Squid and the Whale was nominated for an Academy Award in 2006 for "Best Writing, Original Screenplay". The writing and conversations are all very natural and genuine. The writing also succeeds with Bernard's pseudo-intellectual language sayings. For example, Bernard likes to call the best of something, the fillet, "Leonard is the fillet of the crime genre." The oldest son picks up the phrase, and a few other habits of the dad.
Jeff Daniels as Bernard is a royal A-hole but he is excellent in the role. You hate Bernard, he is an awful father, an obnoxious man, but you appreciate the acting. Bernard never learns, never grows and he only shows the slightest amount of vulnerability. It is horrifying to see Bernard repeatedly destroy his youngest son, while showing full support for his oldest. Bernard's parenting is so wrong that both kids begin to suffer from psychological woes, different reasons, different woes.
The music is very subtle throughout, I counted 18 songs in the credits. The music is sometimes enjoyably in the background during scenes, and sometimes it is used to build intensity. There's a significant plot line throughout using "Hey You" by Pink Floyd, but most of the music is indie, folk. I zeroed in on the music when I heard Joan playing some Kate & Anna McGarrigle, don't think I've ever heard the McGarrigle sisters' music in a movie and haven't heard them on any device for more than 20 years. Louden Wainwright III sings the final song during part of the credits. Louden married one of the McGarrigle sisters, that's just some value-added info.
William Baldwin has a small but memorable part as Ivan, the Tennis Pro at the club. The role is memorable since all he says is, "I hear you brother."
Then there are the love interests. Anna Paquin as Lili toys with Bernard, and Halley Feiffer as Sophie is Walt's girlfriend. There are some uncomfortable scenes with Bernard parenting Walt about women and Walt and Bernard competing/forcing Lili's attention.
The movie builds to a climax, a small climax, but as with some divorces the kids are in for a long, wide ride.
Movie Details
Director

Writer

Noah Baumbach

Actors

Jeff Daniels, Laura Linney, Jesse Eisenberg, Owen Kline, William Baldwin, Anna Paquin, David Benger, Elizabeth Meriwether, Alexandra Daddario, Halley Feiffer, Molly Barton, Bo Berkman, Matthew Kaplan, Simon Kaplan, Matthew Kirsch, Daniella Markowicz, Ben Schrank, Amy Srebnick, Josh Srebnick, Emma Straub, Alan Wilkis, James Hamilton, Adam Rose, Henry Glovinsky, Eli Gelb, Wayne Lawson, Michael Santiago, Juan Torriente, Patricia Towers, Peggy Gormley, Greta Kline, Melissa Meyer, Benjamin Smolen, Michael Countryman, Nico Baumbach, Maryann Plunkett, Hector Otero, Ken Leung, Jo Yang, Andrew Kaempfer, Bobby Shue

Runtime

1 h 21 min

Release Date

5 October 2005

Genres

Overview

Based on the true childhood experiences of Noah Baumbach and his brother, The Squid and the Whale tells the touching story of two young boys dealing with their parents divorce in Brooklyn in the 1980's.