The Last Black Man in San Francisco
"If you leave, it's San Francisco's loss"
THE LAST BLACK MAN IN SAN FRANCISCO
The Last Black Man in San Francisco, a drama, premiered at the Sundance Film Festival in January 2019.  An ambitious film about a third-generation black man in San Francisco being dispossessed by the city due to gentrification.  Viewing this movie is more of a study of first-timers using grandiose music and several amateur actors to tell a story from their heart – it does not make for a fun Friday night movie.  Trust me on this one, sorry, Max.
Jimmie Fails and Joe Talbot wrote the story.  Fails starred in the movie, Talbot directed and co-wrote the screenplay.  The Last Black Man in San Francisco is loosely based upon the writers' pasts.
Plot:
Jimmie Fails lived in "The House" in the Fillmore District of S.F. with his dad; he lets everyone know his grandfather built the house in 1946. Jimmie loves the house, loves what it represents (normalcy), and believes he belongs there.  The father, James Sr. (Rob Morgan), lost the house, vaguely explained as "smokin' everything in sight."  Jimmie now lives with his friend Montgomery "Mont" Allen (Jonathan Majors) in Mont's Grandpa's (Danny Glover) home.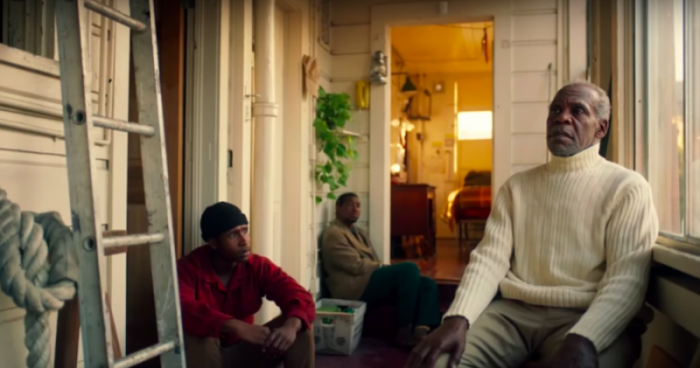 When the current occupant Mary (Maximilienne Ewalt, Bottle Shock), also loses the house, Jimmie and Mont take up residence.
So begins a reasonably complex story that shows a part of San Francisco rarely seen in movies, Bayview Hunters Point.  Shows the plight of the black population that has been neglected for years, until gentrification begins.
Jimmie and Mont are trying to play the game and succeed in the world; they both have jobs – at least part-time jobs – and Mont wants to be an artist and playwright; he wears a blazer every day, pretending to be director/professor.  Jimmie only wants the house; Jimmie loves the house.
Thoughts:
As stated earlier, this is an ambitious effort by first-time screenwriters, first-time lead actor, and first-time director.  The real Jimmie Fails loves music; he loves music even more than movies. So, he and director Joe Talbot, invest heavily in the music.  Some of the musical ideas were great, like adding updated lyrics to the 1967 standard San Francisco (Be Sure to Wear Flowers in Your Hair).  But some music, I thought, is out of place and/or too loud.
For example, in an opening scene, Jimmie and Mont skateboard together through the streets.  This skateboard trip is an incredible feat and also an amazing scene, showing the changing faces and cityscape as one leaves the shipyards of Hunter Bayview Point neighborhood and enter the more gentrified S.F. During this ride, there is poignant narrative descriptively telling the history.
In the San Francisco

they never knew existed.

And now they come

to build something new?

Whole blocks half in the past,

half in the future.
Unfortunately, the grandiose music that doesn't seem right, or needed, for the scene is too loud.  Instead of letting the prose and poetry wash over you, you need to listen attentively and try to filter out the music. A lot of the atmosphere is lost. The viewer misses a lot in this scene, leaving the viewer behind. Watch the scene, tell me if I'm wrong.
It is hard to say anything critical of Jimmie's acting.  He is reliving his own life, and he seems very genuine and comfortable in the role.  Although, Jimmie spends a lot of time staring off into space with long quiet shots.  That is not a bad thing, expected in an Indie movie like this.  But the staring gets tiresome and shows more about the amateur acting and directing then setting up and appreciating scenes.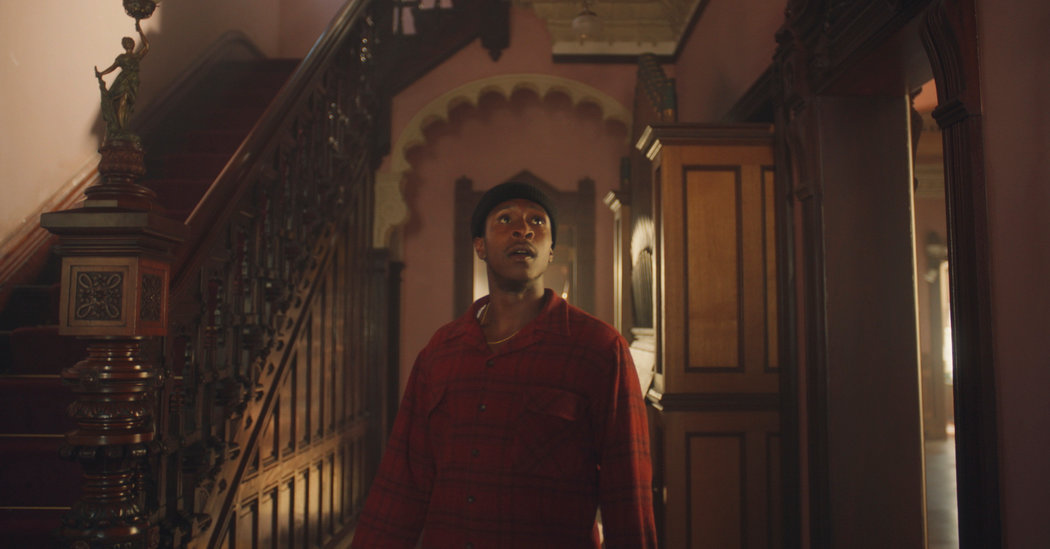 The performance by, and the scenes with, Danny Glover, watching old movies are fantastic.  These are the most "normal" scenes in Jimmie and Mont's life.  These scenes show how the guys really live, the love between Mont and his Grandpa, and sometimes the boredom and unhappiness of Jimmie.
San Francisco is represented well in this movie.  The "crazies" (no disrespect meant) are treated as non-threatening normalcy; the S.F. people are all respectful, and never seem to call the police. If someone did call the police it would be a short movie – the police came and kicked them out of the house.
The Last Man in San Francisco is a cerebral Indie movie drama, excellent for a film class.  It gets three stars for what it is attempting to do.  Enjoyment wise and music-wise, it gets 2 stars, for an average of about 2.5
Movie Details
Director

Writer

Screenplay: Joe Talbot and Rob Richert; Story: Jimmie Fails and Joe Talbot

Actors

Jimmie Fails, Jonathan Majors, Rob Morgan, Tichina Arnold, Mike Epps, Finn Wittrock, Danny Glover, Jamal Trulove, Mari Kearney, Tonya Glanz, Thora Birch, Cassie Hendry, John Ozuna, Michael J. Gwynn, Michael Andrew Reed, Leah Shesky, Jello Biafra, San Quinn, Daewon Song, Jordan Gomes, Andy Roy, Dakecia Chappell, Michael O'Brien, Johnny Walkr Jr.

Runtime

2 h 00 min

Release Date

7 June 2019

Genres

Overview

Jimmie Fails dreams of reclaiming the Victorian home his grandfather built in the heart of San Francisco. Joined on his quest by his best friend Mont, Jimmie searches for belonging in a rapidly changing city that seems to have left them behind.