Da 5 Bloods
A War Never Ends
DA 5 BLOODS
Da 5 Bloods is the superb Spike Lee follow-up to BlackkKlansman, the best film I've seen this year.  Spike could have waited until theaters open to have an even more financially successful film.  But he knew the Spring of 2020 is the right time to release this film.
Da 5 Bloods is a gripping action, adventure, drama with an excellent plot and execution. But it is also a Spike Lee movie.  Therefore, Da 5 Bloods goes further and reinforces the message about the oppression of black America, the inequality of those serving in the Vietnam war, and, in a big way, PTSD.  Some of the historic clips from the 1960's shown in the first part of the film, and the Marvin Gaye lyrics heard throughout the film are, sadly, still relevant today.
Plot
Five GI's become the five bloods while fighting in Vietnam; only four came home.  Now, the four remaining GI's are returning to Vietnam to find the body of the missing blood, Squad Leader Stormin' Norman (Chadwick Boseman, Black Panther).  However, the real intent of the mission is to find the CIA gold the squad found and buried in the 1960s while securing the site after the plane crashed.
Now the elderly GI's Paul (Delroy Lindo), Otis (Clarke Peters), Eddie (Norm Lewis), and Melvin (Isiah Whitlock), are joined by Paul's son David (Jonathan Majors) to find the gold and the body.  Otis uses an old girlfriend, Tien (Lê Y), to connect the Bloods with a French businessman Desroche (Jean Reno), to get the gold out of the country.
The first hour of this two and a half-hour film gets you acquainted with the characters, and shows some fascinating scenery in Vietnam and Ho Chi Min City.  During the first hour, there are flashbacks of the fighting in Vietnam and the politics of the 60s and today.
At the one hour mark, political messages cease until the end. Da 5 Bloods becomes a riveting, constantly changing action, adventure, drama overflowing with high emotions, and excellent acting.
Delroy Lindo (active in movies, TV, and theater since 1976) gives an intense award-winning performance as Paul. Paul constantly battles his severe PTSD demons.  Throughout the entire film, Paul struggles with his war memories, and in his relationship with his son David.  At one point, his face fills the whole screen as he battles with and rationalizes his place in the world.  Lindo is mesmerizing.  Delroy Lindo's acting is a great achievement. A product of forty years of acting. An excellent reason to watch the film a second time.
Last time I saw Jonathan Majors was in The Last Black Man in San Francisco.  Here, as a tortured son trying to connect with his father, he gives a much better and more spirited performance.
The rest of the bloods, Clarke Peters (Wire, Treme), Isiah Whitlock (Wire), Chadwick Boseman (Black Panther), and Norm Lewis (mostly musical theater), all are solid, and each is strong in every scene.  There is nothing wrong with how their friendship is displayed. And there is nothing wrong with their acting.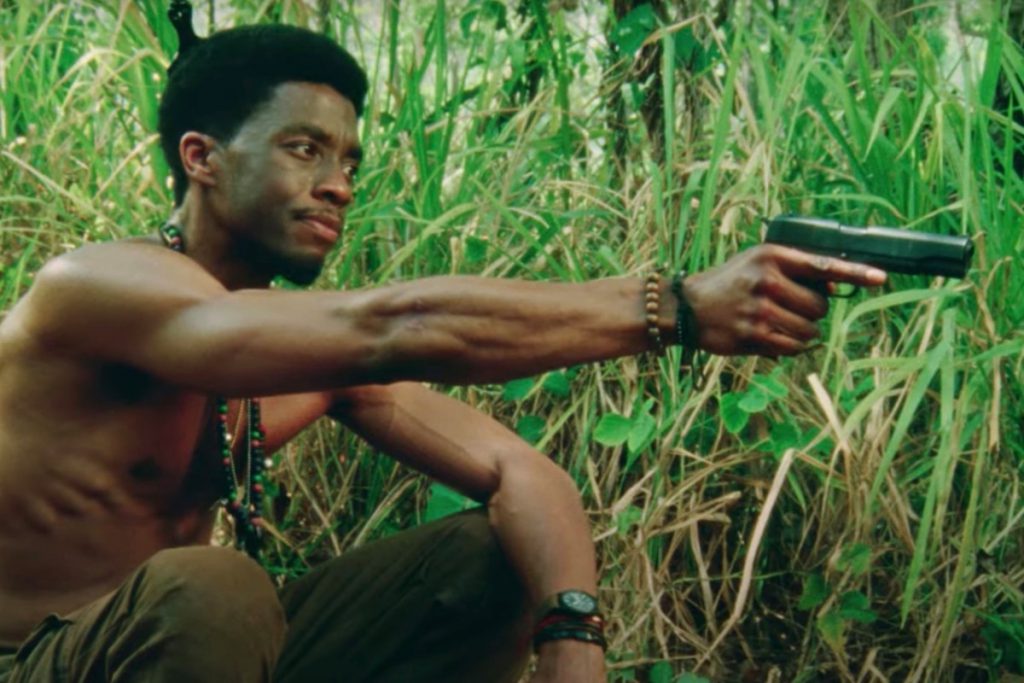 Of course, there are always weak points and problems with every movie, but these should not deter you from watching.  Easily finding the gold and the body is my biggest hangup. Both found in shallow, easy to dig soil.  It was not realistic, but this is not the Discovery Channel, so just let it go.
Overall, Da 5 Bloods is a superb and ever-changing journey that includes action, adventure, drama, and excellent acting.  Even though the Oscars will not air until April 2021, Da 5 Bloods and Delroy Lindo must be part of the Oscars.
Movie Details
Director

Writer

Danny Bilson, Paul De Meo, Spike Lee, Kevin Willmott

Actors

Delroy Lindo, Jonathan Majors, Clarke Peters, Norm Lewis, Isiah Whitlock Jr., Mélanie Thierry, Paul Walter Hauser, Jasper Pääkkönen, Johnny Trí Nguyễn, Lê Y Lan, Nguyen Ngoc Lâm, Sandy Huong Pham, Jean Reno, Chadwick Boseman, Van Veronica Ngo, Nguyen Anh Tuan, Duc Luong, Quoc Tuan, Tran Minh Thuong, Hoang Sang, Thanh Van, Nguyen Bao Ngoc, Linh Huynh, Le Cuong, Nhu Thuc, Hung Cuong, Thuy Hong, Nhu Le, Ngoc Anh, Hawk Newsome, Adrienne J. Stowers, Tirina Simons, Kenda Roberts, Pernell Edward, Hanh Phuc, Chu Xuan Ai, Jordan Morgan, Alex Winters, Anton Patrynika, Casey Clark, Andrey Kasushkin, Suradet Dongthaisong, Nhut Linh, Phuc Pham Hoang, Quoc Toan, Xuan Thanh, Truc Linh, Nguyen Kim Dung, Nguyen Vu Truc Nhu, Taweesak Baoseehah, Surawan Satchukorn, Pichaiyut Jongjai, Chaiyos Chaiyosburana, Laersak Phusomjai, Amanda Nguyen, Devin Rumer, Rick Shuster, Alexander Winters, Mav Kang

Runtime

2 h 36 min

Release Date

12 June 2020

Genres

Overview

Four African-American Vietnam veterans return to Vietnam. They are in search of the remains of their fallen squad leader and the promise of buried treasure. These heroes battle forces of humanity and nature while confronted by the lasting ravages of the immorality of the Vietnam War.