SWORD OF TRUST
Sword of Trust is a comedy written, directed, and produced by the late Lynn Shelton.  At the time of her unexpected death at 54, Ms. Shelton was in a relationship with Marc Maron, who stars in this film.
Sword of Trust is an excellent example of mumblecore writing. Mumblecore is a type of independent film that emphasizes naturalistic acting and dialogue over plot.  Lynn Shelton was known for this type of writing. Other writers and directors of mumblecore include Mark Duplass (Blue Jay) and Greta Gerwig (Frances Ha).
Sword of Trust attempts to confront conspiracy theory thinkers.  Mary (Michaela Watkins, The Unicorn) and Cynthia (Jillian Bell, Brittany Runs a Marathon) inherit a Civil War sword.  They try to sell the sword to the Alabama Delta Pawn Shop owned by Mel (Marc Maron, GLOW).  The documentation that came with the sword claims that the sword proves the South won the Civil War.  The conspiracy-leaning employee at the pawn shop Nathaniel (Jon Bass) directs them to websites that believe the South won the Civil War.  The price of the sword goes up.  And so begins a funny and comfortable ride to meet these conspiracy thinking people and sell the sword.
I have watched mumblecore films before, and usually, I am bored and unsatisfied.  Sword of Trust is the best mumblecore I have seen.  The film is subtly funny and enjoyable.  All the characters are likable to some extent.
Marc Maron is his usual gruff self, but he has a big heart and is harmless.  Michaela Watkins' character is intelligent, to-the-point tough, but likable.  Her girlfriend Jillian Bell is innocent, dependent on, and in love with the Michaela character.  Finally, conspiracy thinker Nathaniel is emotionally immature and inept but funny.
Lynn Shelton also has a scene toward the beginning as Deirdre, Mel's ex-wife.  I believe this is the first time I noticed Lynn Shelton acting. She is terrific in the role of a sad, desperate, and strung-out person.
This perfect storm of personalities interacts to sell the Civil War sword to a group of people that believe the south won the Civil War.
I would have given it a much higher rating, but I was disappointed in how everything gets resolved.  I guess I wanted more, I wanted answers, but no one has answers these days.  This film did a great job defining the issue and characterizing the people involved.  It is a pleasant experience.
Watch the Sword of Trust, a comedy, if you want to see a quiet movie that is funny on an intellectual scale, with a bit of reference to the conspiracy problems of the world today.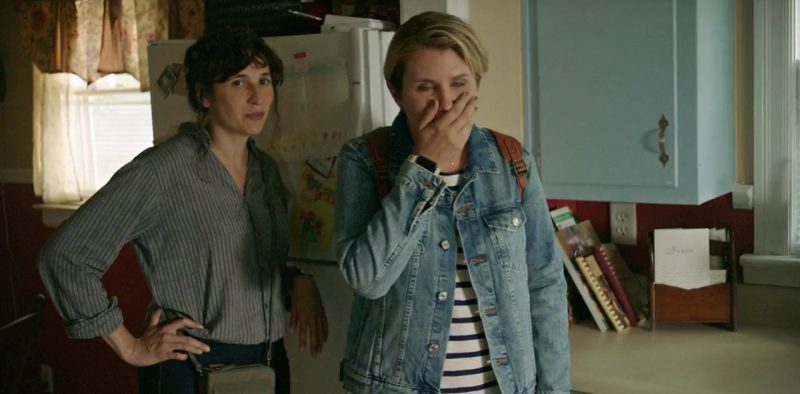 Movie Details
Director

Writer

Lynn Shelton, Michael Patrick O'Brien

Actors

Marc Maron, Jon Bass, Michaela Watkins, Jillian Bell, Toby Huss, Dan Bakkedahl, Lynn Shelton, Timothy Paul, Whitmer Thomas, Al Elliott, Tilcia Furman, Benjamin Keepers, Robert Longstreet, Elise Mayfield, T'Darius Murphy, Chris Steele, Elisha Williams, John Winscher, Michael Patrick O'Brien

Runtime

1 h 28 min

Release Date

12 July 2019

Genres

Overview

When Cynthia and Mary show up to collect Cynthia's inheritance from her deceased grandfather, the only item she's received is an antique sword that he believed to be proof that the South won the Civil War.