Sold Out
Music-based Drama
Sold Out
What does the wife think of her husband John's music, his art, his passion – "It's fine. – but it's time he grows up." Not the correct answer, wifey!
The other central character in Sold Out, a music-based drama, is Kat, an independent music scout. Kat just got her band a record contract, but she refuses to go to LA with the band. Why not Kat?
So begins a really nice, heartwarming Indie movie set in the wintery Midwest.
John (Sam Bardwell) wants to be a musician; Kat (Kelsey McMahon) promises to get him there. However, Kat makes an enormous demand, leave your wife and job now. Soon, John and Kat set out on a road trip to stir John's creativity and write more songs. As road trips go – shit happens and secrets are uncovered.
Sold Out (as in ticket sales) is an Indie movie, but it is well filmed and produced. Written by Susan Brightbill. Directed and filmed by her husband Tim Dahlseid, Sold Out is his first feature film. Along with a sound mixer, these three people filmed Sold Out during the 2018-2019 winter in Minnesota, the second coldest winter on record.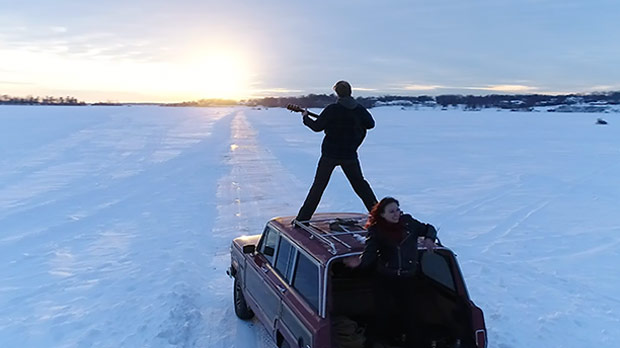 The production value is good. The sound is excellent most of the time, although sometimes it gets a bit tinny and echoey, but overall good. Camera work is professional, and the acting, for the most part, is adequate and natural but won't win any awards.
Indie movies typically leave the camera on a scene too long. A scene lasting too long only happened once, maybe twice, probably because they liked the song and the singer is their friend.
Sold Out, a music-based drama, has a couple of good songs and tries to show the difficulty in writing music. But I'm not sure how accurate it is about the music industry. This film reminds me of another heartwarming movie, Hearts Beat Loud, with Nick Offerman, Ted Danson, and Toni Collette, a bigger and tighter production about letting go.
Sold Out is an enjoyable film, with easy to listen to music, a road trip, and a satisfying ending. The film ends with a quiet, show-stopping song that you are glad to finally hear, not because the movie is over, but because of who sings the song.
Movie Details
Director

Writer

Susan Brightbill

Actors

Kelsey McMahon, Bruce Bohne, Patrick Thomas O'Brien, Aliya Mukamuri, E.G. Bailey, Christine Weber, Sam Bardwell, Matt Bailey

Runtime

1 h 31 min

Release Date

22 October 2021

Genres

Overview

A female talent scout takes a down-on-his-luck construction worker under her wing and helps him rise to his potential as a singer/songwriter.