SHAZAM!
Tired of watching Oscar-worthy 3 hour movies, so for the first movie of 2020, I watched Shazam! a light action comic book movie. Shazam! is the seventh film in the DC Extended Universe (DCEU).  The preceding six DCEU films are:
Man of Steel (2013)
Batman v Superman: Dawn of Justice (2016)
Wonder Women (2017)
Justice League (2017)
Aquaman (2018)
Warner Bros. Pictures plans eight other DCEU films through 2022.
I enjoyed Shazam! but I would have enjoyed it more if I was a 15-year old boy.  A 15-year old girl would also enjoy this movie since everyone gets empowered in this movie.
Shazam! took a while to get going since they had to make sure the kids viewing understood, he looks like a bad guy, but he is a good wizard, let me repeat that.  But once it gets going, it is good wholesome fun.  Lots of messages about friendship and family and the struggles of being who you are.
Shazam! represents all types of kids. There is a disabled kid, the smart girl, a big dumb quiet boy, a gamer geek, and the more mature teenage girl.  There is an assortment of minor antagonistic types (bullies) who learn their lesson. And, of course, the stronger evil guy, Dr. Thaddeus Sivana (Mark Strong) who rules a team of demons – The Seven Deadly Enemies of Man (pride, envy, greed, lust, wrath, gluttony, & sloth) – who wants to take everything away from Shazam.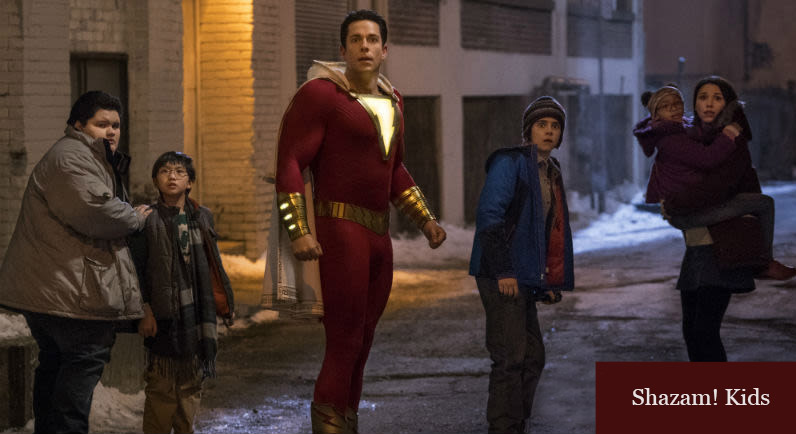 Shazam, the superhero, has the power to transform himself from a 15-year old boy to a full-grown man. Although his brain remains the brain of a 15-year old boy.
When not a superhero, he is a foster kid, Billy Batson (Asher Angel), in current-day Philadelphia.  When Billy Batson transforms into the superhero Shazam, he becomes Zachery Levi (the doctor Midge Maisel met in the Poconos in season 2 of The Marvelous Mrs. Maisel).  Zachery Levi does a fine job acting like a 15-year old, causing that frustration you feel when you try to reason with a 15-year old (this comment is for all the parents out there).
Half the fun of this movie is watching Shazam figure out his powers so I won't say a word.
Shazam! is a comic book superhero movie that is an enjoyable watch for the whole family and could make a 15—year old get goosebumps, that's a weird way to say – feel empowered.
Movie Details
Director

Writer

Screenplay by Henry Gayden. Story by Henry Gayden and Darren Lemke

Actors

Zachary Levi, Asher Angel, Mark Strong, Jack Dylan Grazer, Djimon Hounsou, Faithe Herman, Grace Fulton, Ian Chen, Jovan Armand, Marta Milans, Cooper Andrews, Ethan Pugiotto, John Glover, Landon Doak, Paul Braunstein, Nadine Roden, David Kohlsmith, Caroline Palmer, Emily Nixon, Carson MacCormac, Lotta Losten, Andi Osho, Natalia Safran, David J. MacNeil, Lou Lou Safran, Ava Preston, Manuel Rodriguez-Saenz, Ali Badshah, Simon Northwood, Lovina Yavari, Rachel Boyd, Jim Pagiamtzis, Raul Torres, Jhaleil Swaby, Jackson Reid, Bryce Arden Poe, Tosh Robertson, Pearl Ho, Cassandra Ebner, Stephanie Hawkins, Angelica Lisk-Hann, Jesse Bond, Harper Gunn, Evan Marsh, Kerri Kamara, Leon Oliveira Martins, Nilce Moretto, David F. Sandberg, Ryan Handley, Adam Brody, Meagan Good, Michelle Borth, Ross Butler, D.J. Cotrona, Wayne Ward

Runtime

2 h 12 min

Release Date

29 March 2019

Genres

Overview

A boy is given the ability to become an adult superhero in times of need with a single magic word.