Quiz Lady
Awkwafina & Sandra Oh
THE QUIZ LADY
Writing a review of Quiz Lady with Awkwafina I realize I'm competing with Google's AI Bard (which I like the best right now), Bing Copilot, ChatGPT, etc.? Those "AI beings," yes, they do write movie reviews well and quickly, but they lack substance. Those AI beings have no depth, no concern with minor characters, none of the real stuff like – this is dreadful, boring, insignificant, stupid, no, none of that, just the memorized stuff like directed by, written by, and the plot. Any nuances, praise, and criticisms are just quotes from other critics. But this is movie season – November through February – so I will compete with the AI beings and give you more information about The Quiz Lady than you probably don't want or need – but I'll leave some surprises.
The Quiz Lady is Awkwafina. Awkwafina's last good movie is The Farewell in 2019. Since then, she has been on Comedy Central TV's Awkwafina Is Nora from Queens, did some voice-over roles, and an MCU film (although no one watches the MCU anymore).
In The Quiz Lady, Awkwafina is the younger sister, Anne, from a broken, dysfunctional family. She works as an accountant, and her only pleasure is watching the quiz show Can't Stop the Quiz (a parody of Jeopardy) nightly her whole life. Awkwafina/Anne has mastered Can't Stop the Quiz. Her estranged sister Jenny (Sandra OH) returns and, amid much chaos, gets Anne to audition for the Can't Stop the Quiz show to pay off her mother's debt (a self-centered mother you never see, but hear once).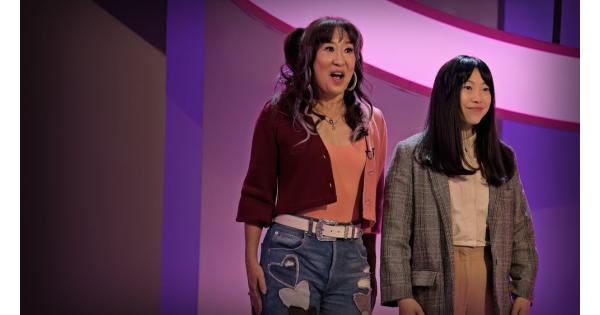 Quiz Lady is a multi-layered film that is funny – sentimental with the sister's struggles and camaraderie – and sometimes weird.
Can't Stop the Quiz is hosted by a bow tie-wearing Will Ferrell. He perfectly epitomizes the multiple-decade nice-guy game show host.
The current champion on the show is Acteur (Jason Schwartzman), who instantly becomes a character you despise for several reasons. Finally, Holland Taylor (best known for being married to Sarah Paulson) is Anne's (Awkwafina) neighbor. Holland Taylor tries to provide comedy; however, her role is not significant or necessary in the movie. But she is impressively eighty years old.
Awkwafina and Sandra Oh both deliver stellar performances, although an Oscar nomination probably will not happen. Their characters' opposite personalities blend well, pushing each other forward while being funny in all the chaos. I have never seen Sandra Oh play a character like Jenny, and she gets better in the film's second half.
Overall, Quiz Lady is a funny and heartwarming comedy that will satisfy you. The film portrays the power of sisterhood, the thrill of trivia competition, and maturing. If you like Awkwafina or Sandra Oh, it is a must-watch.
Movie Details
Director

Jessica Yu

Writer

Jen D'Angelo

Actors

Awkwafina, Sandra Oh, Will Ferrell, Holland Taylor, Jason Schwartzman, Tawny Newsome, Paul Reubens, Jonathan Park, Camrus Johnson, Angela Trimbur, Tony Hale, Justiin A. Davis, Davina Reid, Jodi Hou, Shirley Chen, Christine Lin, Eddy Lee, Alan Heitz, Betsy Holt, Matt Cordova, Jane Yubin Kim, Luke Kim, Sarah Grace Welbourn, Hailey Perng, Daniel H. Chung, Dave Beaudrie, Amy Tolsky, Charles Green, Ammie Masterson, Randall D. Cunningham, Derek Roberts, Ned Yousef, Joe Chrest, Maria Bamford, Annie Boon Karstens, Al Bayan, Atul Singh, Nicole Marie Appleby, Esme Salzman, Larry Weissman, Eddie Davies, Blake Rosier, Jophielle Love, Julia G. James, Rosha Washington, Choppy Guillotte, Mary Claire Smythe, Shane LeCocq, Claire Frederiksen, Charlie Talbert, Martin Yu, Summer Selby, Sengphet Sengphachanh, Crosby Cookie, Phil LaMarr, Patrick McDonald

Runtime

1 h 40 min

Release Date

9 September 2023

Genres

Overview

A brilliant but tightly wound, gameshow-obsessed young woman, Anne, and her estranged, train-wreck of a sister Jenny, must work together to help cover their mother's gambling debts. When Anne's beloved dog is kidnapped, they set out on a wild, cross-country trek to get the cash the only way they know how: by turning Anne into a bona-fide gameshow champion.