Once Upon a Time … in Hollywood
A What If, Fairy Tale
ONCE UPON A TIME … IN HOLLYWOOD
Once Upon a Time … in Hollywood is a fairy tale. More precisely, the movie is a "what if, fairy tale." It makes you wonder how the world would differ if the movie's ending was true.
Plot Summary:
Rick Dalton (Leonardo DiCaprio) just wrapped up his 1950's Western cowboy TV show and is living his life in Hollywood.  He lives next door to Sharon Tate (Margot Robbie) and Roman Polanski (Rafal Zawierucha).  The neighbors are only significant at the end of the movie.
Cliff Booth (Brad Pitt) was Rick's stunt double on TV and now works as Rick's handyman.
That's it, just three months in the life of two 1950's era guys living in the '60s with the "dirty hippies" that have moved into the city.
Thoughts:
Once Upon a Time … in Hollywood does an excellent job with character development.  Before there is a scene with someone, there is usually an introductory scene to let you understand the character.  Before Cliff gives one of the dirty hippies "Pussycat" (Margaret Qualley) a ride, you see her and her friends several times; hitchhiking, hanging out, and dumpster diving.  You develop an impression of Pussycat before she enters the scene with Cliff.
Rick's scenes also have character development. Rick does an adorable scene with 8-year old Trudi Fraser (Julia Butters) before they do a more important scene.  Knowing Trudi makes what she tells Rick in the second scene, all the more significant.
Between Leonardo DiCaprio and Brad Pitt, there is much discussion about who should get the nomination for Best Actor; I vote for Leonardo as Rick Dalton.  Rick Dalton, in the movie, has a much different personality than the real Leonardo.  The Rick Dalton character appears to be a difficult character to play with his slight stutter or hesitation before he begins to speak.  He is playing a fading star and Leonardo does a perfect job relaying the lack of self-confidence.  There are some great scenes.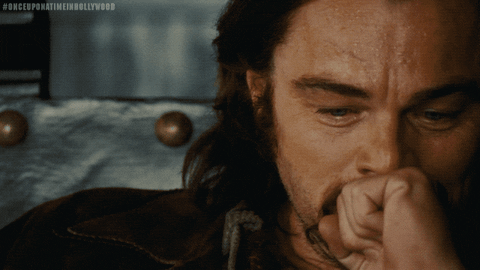 Brad Pitt's character, Cliff Booth, is Brad Pitt playing Brad Pitt.  The level of difficulty is low.  His most significant scene is taking off his shirt to prove he is still the Brad Pitt you know from 20+ years ago.
Margot Robbie as Sharon Tate gives a solid performance as usual.  But this is not a movie about Sharon Tate, so there are several scenes of Margot walking in '60s hot white boots and some dancing. She does not get boring, but she doesn't need to stretch very far. Does she even need to be in the movie?

Bruce Dern keeps popping up in movies, playing an elderly man.  He has recently been in The Mustang, and The Peanut Butter Falcon as an elderly man. No makeup or CGI is needed when Bruce Dern plays an elderly man.
Quentin Tarantino wrote and directed Once Upon a Time … in Hollywood. As with almost all Tarantino movies, there is violence and blood.  This movie waits until the end and gives you a perfectly choreographed, bloody and surprisingly cathartic scene.  With great character development, you know enough about the characters to have an opinion.  The opinion I developed allowed me to have a bloody cathartic experience; it was great.
I enjoyed this movie.  It moved along at a good pace, had an interesting story with a lot of actors, and there was a lot going on. Once Upon a Time … in Hollywood is based upon real events so there are references to several well-known people such as Sharon Tate, Roman Polanski, Sam Wanamaker, Steve McQueen, Bruce Lee, Squeaky (Fromme), Mama Cass, Michelle Phillips, and probably more I did not recognize.
Once Upon a Time … in Hollywood will be a fun movie to watch on HBO.  Start viewing at any point and you will see a well-acted, usually fun scene with a lot of depth. Once Upon a Time … in Hollywood will hang around on TV for a long time. Oh shoot, I forgot to mention the music!
Movie Details
Director

Writer

—

Actors

Leonardo DiCaprio, Brad Pitt, Margot Robbie, Emile Hirsch, Margaret Qualley, Timothy Olyphant, Julia Butters, Austin Butler, Dakota Fanning, Bruce Dern, Mike Moh, Luke Perry, Damian Lewis, Al Pacino, Nicholas Hammond, Samantha Robinson, Rafał Zawierucha, Lorenza Izzo, Costa Ronin, Damon Herriman, Lena Dunham, Madisen Beaty, Mikey Madison, James Landry Hébert, Maya Hawke, Victoria Pedretti, Sydney Sweeney, Harley Quinn Smith, Dallas Jay Hunter, Kansas Bowling, Parker Love Bowling, Cassidy Vick Hice, Ruby Rose Skotchdopole, Danielle Harris, Josephine Valentina Clark, Scoot McNairy, Clifton Collins Jr., Marco Rodríguez, Ramón Franco, Raúl Cardona, Courtney Hoffman, Dreama Walker, Rachel Redleaf, Rebecca Rittenhouse, Rumer Willis, Spencer Garrett, Clu Gulager, Martin Kove, Rebecca Gayheart, Kurt Russell, Zoë Bell, Michael Madsen, Tim Roth, Perla Haney-Jardine, James Remar, Monica Staggs, Craig Stark, Keith Jefferson, Omar Doom, Kate Berlant, Victoria Truscott, Allison Yaple, Bruce Del Castillo, Brenda Vaccaro, Lew Temple, Daniella Pick, David Steen, Mark Warrack, Gabriela Flores, Heba Thorisdottir, Breanna Wing, Kenneth Sonny Donato, Sergio Gonzalez, Casey O'Neill, Michael Graham, Emile Williams, Vincent Laresca, JLouis Mills, Gilbert Saldivar, Maurice Compte, Eddie Perez, Hugh McCallum, Zander Grable, Ed Regine, Michael Bissett, Lenny Langley Jr., Gillian M. Berrow, Chad Ridgely, Chic Daniel, Corey Burton, Michaela Sprague, Ryan Ramirez, Kayla Jenee Radomski, Kerry Westcott

Runtime

2 h 42 min

Release Date

25 July 2019

Genres

Overview

Los Angeles, 1969. TV star Rick Dalton, a struggling actor specializing in westerns, and stuntman Cliff Booth, his best friend, try to survive in a constantly changing movie industry. Dalton is the neighbor of the young and promising actress and model Sharon Tate, who has just married the prestigious Polish director Roman Polanski…