LOST GIRLS
Lost Girls is a Netflix crime/drama about the oldest daughter of three girls going missing.  The working-poor, high-strung mother, Mari Gilbert (Amy Ryan), tries to get the attention of the police.  However, the police are apathetic, inept, and sexist throughout the entire ordeal. Lost Girls is based upon actual events that began unfolding in 2010 on the South Shore of Long Island, New York.
This movie is not about solving a crime and bringing people to justice.  Lost Girls shows the pain of the mother.  The primary upfront pain is trying to get the attention of the police to look for her daughter.  However, there are many layers of suffering occurring in Lost Girls.  Finally, admitting to what her daughter did for a living, and trying to console her two other daughters. A group of six mothers and sisters of missing girls meet and try to bond. The pain when those women are sitting around the table is hard to take.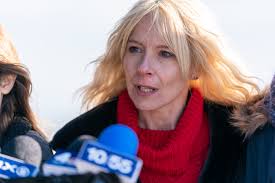 Amy Ryan (Beautiful Boy, TV's High Maintenance and Broad City) is excellent as Mari Gilbert, showing desperation, anger, frustration, and just being overwhelmed with life.
Thomasin McKenzie (Leave No Trace, Jojo Rabbit, The King) – maybe her toughest acting job so far – is not given a lot of material as the middle child Sherre. But they make sure her new fresh face is in as many scenes as possible.  Ms. McKenzie does have one scene with several lines describing her sister, and one dramatic scene with some crying, but I thought she would be better.  Thomasin McKenzie – labeled as an up-and-coming actress comparable to Jennifer Lawrence – was good, but a bit more emotion and energy seems to be needed.  But in Lost Girls, she does a fine job being a teenager, since she is a teenager.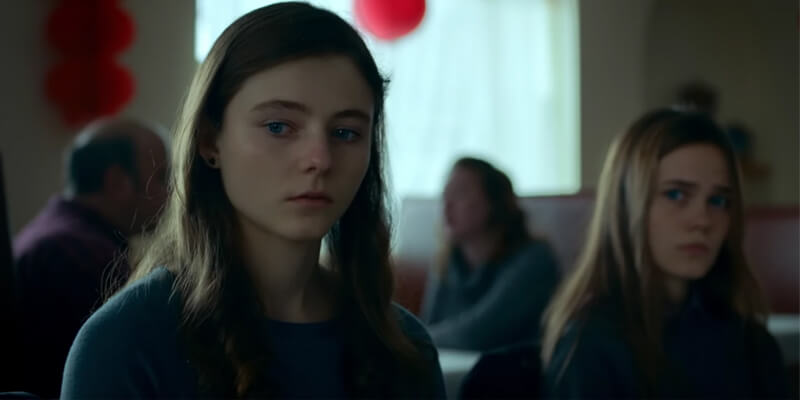 A serial killer is running around Long Island, but in Lost Girls, the Police are the bad guys.  Lots of shadows imply the Police are evil.  A lot of darkness implying badness, but they still come off as incompetent and very sexist, and the shadows make it difficult to see and become annoying.
Dean "The Mayhem Guy on Allstate commercials" Winters plays Detective Dean Bostick.  "Mayhem guy" is a sexist, inept detective usually seen in shadows.  Not a very good look or acting in this movie.
Lost Girls is a familiar story.  Remember the Green River Killer in Washington State – 71 dead young females not being taken seriously by the police, unsolved for 20 years.  Although familiar, Lost Girls is slightly different showing the personal pain of those involved.  Watching Amy Ryan be a driven and exhausted mother is difficult and frustrating to watch but fascinating.
Movie Details
Director

Writer

Michael Werwie

Actors

Amy Ryan, Thomasin McKenzie, Lola Kirke, Gabriel Byrne, Oona Laurence, Dean Winters, Molly Brown, Kevin Corrigan, Miriam Shor, Austyn Johnson, Reed Birney, Rosal Colon, Haskiri Velazquez, Harvey B. Jackson, Jared Johnston, Jimi Stanton, Matthew F. O'Connor, Brian Adam DeJesus, Stan Carp, Karan Choudhary, Sarah Wisser, Aaron Morton, Jon Haslam, Grace Capeless, Laurie Dawn, Jon Berry

Runtime

1 h 35 min

Release Date

13 March 2020

Genres

Overview

When Mari Gilbert's daughter disappears, police inaction drives her own investigation into the gated Long Island community where Shannan was last seen. Her search brings attention to over a dozen murdered sex workers.