KAJILLIONAIRE
A Grifter family:

A family that engages in petty or small-scale swindling

The Breast Crawl
Fear of earthquakes and flying
A limping Debra Winger
Unrecognizable Evan Rachel Woods
Meeting Melanie (Gina Rodriquez) on a plane
5 PM weeping walls
You named your daughter Old Dolio?
Pretending to act like a typical family while the "mark" dies
Mr. Lonely by Bobby Vinton
Lack of tenderness
Call me "hon."
The list above are some of the elements that contribute to one of the most original and well-written scripts I have encountered in a long time.  This slightly bizarre story is more than just a coming-out story; Kajillionaire is about a woman starting from zero tenderness in her life and slowly awakening to the world.  Kajillionaire, a crime comedy-drama, is original. However, the film is slightly quirky, so it is probably not for everyone.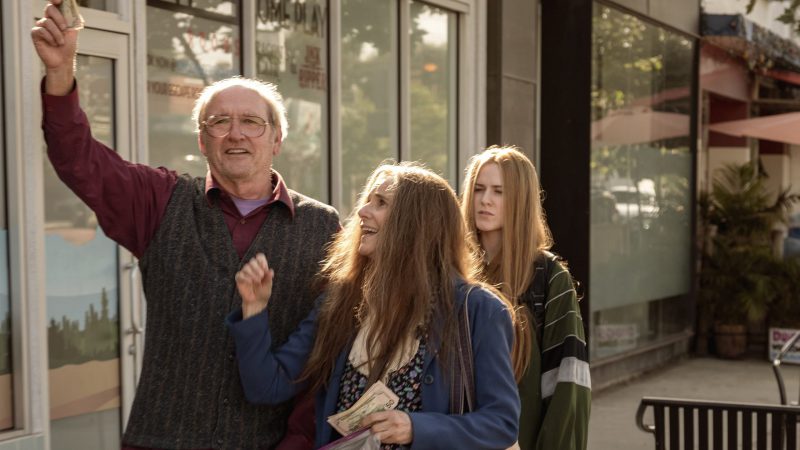 Grifters Robert & Theresa Dyne (Richard Jenkins & Debra Winger) raised their daughter Old Dolio (Evan Rachel Wood) to be an obedient and successful scam artist.  Life is a constant struggle. However, all is good for Old Dolio. All is good until the family meets Melanie (Gina Rodriquez).  Melanie finds it exciting to be part of the grifter family. So Melanie sets up a few scams. However, Old Dolio notices the tenderness her parents show toward Melanie. Old Dolio begins questioning her own life, a life with no tenderness from her parents.
Old Dolio has a long way to travel from her ill-fitting clothes and no tenderness until she feels something, so at times, the movie can be slow. However, Evan Rachel Wood plays the role well as a sans emotions person. The Patriarch of the family, Robert, is single-minded in his constant need to scam and find some money. Hyperactive and obsessive.  Emotions do not play a part of his thinking.  The Mother (Theresa) is complicit and does not factor much in the movie – except for the Breast Crawl scene – and then she only says one word – cot.
 Kajillionaire has been nominated for a 2021 GLAAD Media Award. An award for the best LGBT-related film released, not for major distribution.  The film premiered at the Sundance Film Festival on January 25, 2020.
Kajillionaire is a sometimes slow crime, comedy-drama film. The main plot line involves Old Dolio learning about emotions after 26-years of repression by the parents.  It is different, a bit quirky, but a well-written story that is heavier on the drama.
Movie Details
Director

Writer

Miranda July

Actors

Evan Rachel Wood, Debra Winger, Gina Rodriguez, Richard Jenkins, Patricia Belcher, Kim Estes, Da'Vine Joy Randolph, Rachel Redleaf, Randy Ryan, Mark Ivanir, Blanca Araceli, Diana Maria Riva, Betsy Baker, Michelle Gillette, Susan James Berger, Adam Bartley, Michael Twaine, Andrew Hawkes, David Ury, Matthew Downs, Samantha Cardona, Zachary Barton, Jeffrey Nicholas Brown, Tabitha Brownstone, Ian Casselberry, Nikki Castillo, Challen Cates, Jason Catron, Madeleine Coghlan, Micah Cohen, Matthew Foster, Ben Konigsberg, Ethan Josh Lee, Rebecca Lee Robertson, Zena Leigh, Brandon Morales, Steve Park, Wylie Small, Trent Walker

Runtime

1 h 45 min

Release Date

25 September 2020

Genres

Overview

Two con artists have spent 26 years training their only daughter to swindle, scam and steal at every turn. During a desperate and hastily conceived heist, they charm a stranger into joining them, only to have their entire world turned upside down.