CHRISTMAS SAIL
"Hey, Google – Define Christmas movie."
A movie you watch at Christmas that makes you feel the holiday spirit
"Hey, Google – What makes a movie a Christmas movie?"
A film that features one of the traditional Christmas themes, such as love, hope, generosity, faith, redemption, family, or fear.
Christmas Sail fits all the criteria, less the faith. Christmas Sail is a Hallmark Channel movie that premiered on Halloween night.  The Hallmark Channel's Christmas movies began October 22, 2021, with forty-one original holiday movies this year.
For me, watching Christmas Sail is an easy choice since it stars Portland native Katee Sackoff (Another Life). Katee's new husband, Robin Gadsby, wrote the film.  Easy choice because Katee Sackoff was part of one of my favorite early binges, Battlestar Galactica.  She was Lieutenant Kara Thrace, aka "Starbuck." So, I keep track of the cast.  I also keep track of the Justified cast, my current favorite binge of all time.  Sorry, I reminisce, but what better time to remember than Christmas movie review time.
Christmas Sail also stars Terry O'Quinn (long history in TV) as Dennis Darling, the depressed widowed father of Liz Darling (Katee Sackoff).  Liz and her bright, articulate daughter Hannah (Emma Oliver) return to the small town of Portside (really Gibsons, B.C.) to help her slightly injured father.  Liz runs into Luke (Patrick Sabongui), her old friend from childhood.  Guess what happens!
This film hits all the Christmas spots:
Christmas Eve boat lighting contest that Liz's mother usually won
An Angel on top of the tree
Grumpy, sad, Bah! Humbug! grandpa
The Baker that secretly loves grandpa
Talk of grief
Old photos to reminisce
Elves
Reminiscing about mom
Winter Balls, the dance type
Nervous laughs while flirting
Perfectly timed mishaps to put the couple in each other's arms
Smart kid who softens grandpa
Trimming the Christmas tree
Rekindling old crushes
Confessions of old love
First kisses
Torn between two worlds (Seattle & Portside)
Perfect weather
It's a Wonderful Life ending.
I'm not making fun; The Hallmark Channel's Christmas Sail has all the elements needed to make you cry and get you into the Christmas spirit.  But I don't think Katee Sackoff can cry on camera because some scenes needed a tear.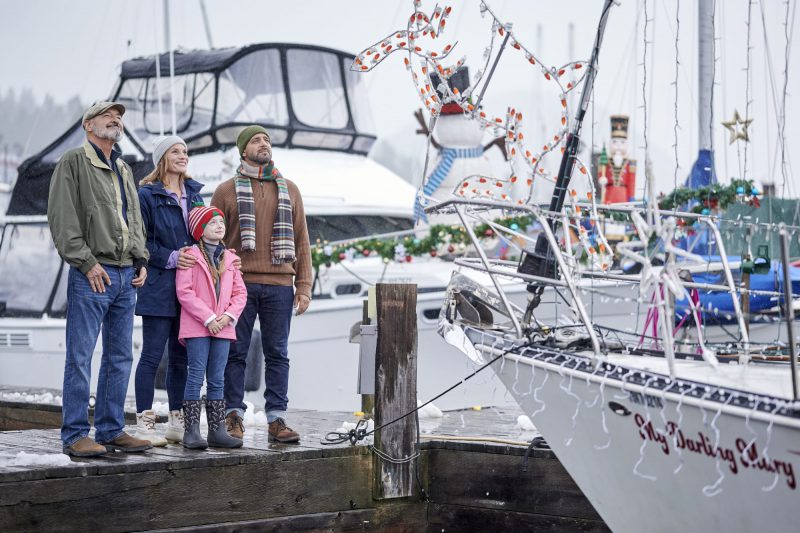 Movie Details
Director

Writer

Robin Gadsby

Actors

Katee Sackhoff, Patrick Sabongui, Terry O'Quinn, Lossen Chambers, Emma Oliver, Sunita Prasad, Jason McKinnon, Tosca Baggoo, Paula Giroday, Tiffani Tims, Luvia Peterson, Nick Heffelfinger, Sheila Tyson, Troy Mclaughlin

Runtime

1 h 24 min

Release Date

31 October 2021

Genres

Overview

When Liz returns home to take care of her estranged father, she is determined to give her daughter a perfect Christmas and reconnects with her best friend.