VIOLET
Violet is a character-based drama following Violet (Olivia Munn), a professional woman in the film industry trying to improve her mental health. Oliva Munn is excellent in her portrayal of Violet, the best I remember her ever being. See Trailer.
An interesting stylized device shows Violet's struggle with her psyche. Violet wants to be feel free like she was at age twelve before her mother's constant verbal abuse took its toll. However, inside her head, the haunting male voice of Justin Theroux fills her with self-loathing and constantly tells Violet how to behave to remain safe and successful. Violet typically follows this voice and shuts down interactions with people, so Violet stays isolated, alone, but safe.
However, Violet is having new thoughts about how she wants to act.  These thoughts are seen as text on the screen with occasional images to show her pain and desires. While all this is going on in her head, you watch Violet interacting with people as if this subconscious battle is not happening.  It is an appealing concept that seems to work throughout the entire ninety-two-minute film.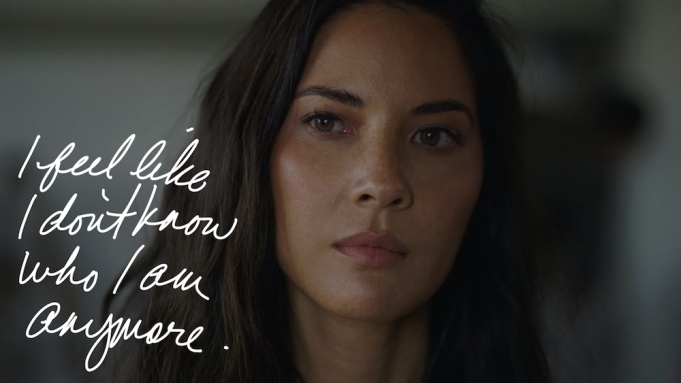 The first part of the film demonstrates her typical interacts with people.  When people get too close, she shuts them down, the threat fades away, and her subconscious voice says, "There, don't you feel better." As she struggles with her subconscious, she slowly sees that people actually do respect her and her work. Little things help her.  Her friends Lila and Red are supportive and forgiving. The car mechanic is friendly and doesn't upsell, an old boyfriend apologizes, and her colleagues support her and offer her a job. Still, before she can be entirely free, she must deal with her abrasive and disrespectful family.
Childhood and recent flashbacks better define her character and the source of her mental health issues. There is a little about the sexism in the film industry, who she should date, and her current boss, but the film stays focused on Violet's psyche struggle.
Violet is a character-based drama about anxiety. This film is not about therapy, or social workers, or medical conditions. Violet is about a single woman trying to cope with childhood mother issues. Olivia Munn is excellent as the lead character wanting to change her behavior to feel free instead of alone and guarded.  You watch her confidence slowly build throughout the film.
Since Violet is about film production, the entire production staff on Violet parades in front of the camera at the end of the final credits and says hi. Nice touch.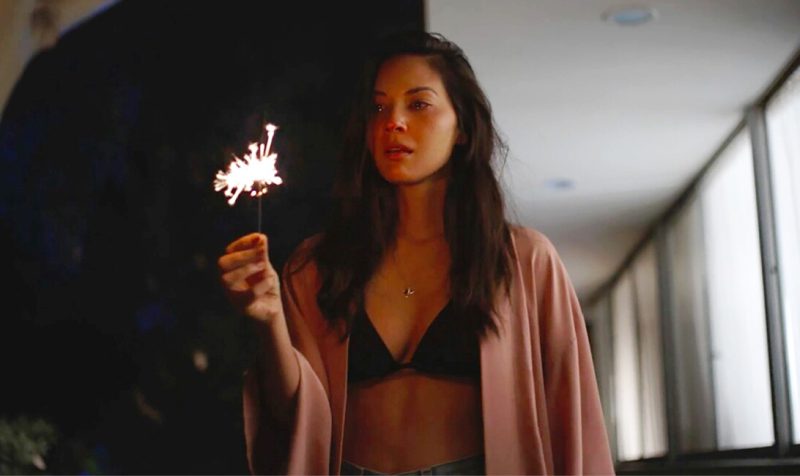 Movie Details
Director

Writer

Justine Bateman

Actors

Olivia Munn, Luke Bracey, Justin Theroux, Dennis Boutsikaris, Erica Ash, Zachary Gordon, Todd Stashwick, Bonnie Bedelia, Peter Jacobson, Jim O'Heir, Simon Quarterman, Laura San Giacomo, Rob Benedict, Keith Powers, Cassandra Cardenes, Al Madrigal, Rain Phoenix, Steve Agee, Anne Ramsay, Colleen Camp, Jason Dohring, Jordan Belfi, Federico Dordei, James C. Victor, Matt Ingebretson, Liliana Mijangos, Brooklynn MacKinzie, Jakari Fraser, Mason Wells, Kathleen Wilhoite, Annica Liljeblad, Joe D'Angerio, W. Tré Davis, Erin Cantelo, Jack Nicholls

Runtime

1 h 32 min

Release Date

29 October 2021

Genres

Overview

Violet realizes that her entire life is built on fear-based decisions, and must do everything differently to become her true self.