TOGETHER
Together is an intelligent British comedy-drama about a couple's changing relationship during the lockdowns of 2020 and into 2021.  The movie explores the wide range of emotions the couple experience during the lockdown year. Emotions range from hateful to funny to poignant and sad.  Together will satisfy your theater urge if you are starving to see a play after two years of limited theater offerings. However, Together is not a static play. The camera keeps moving, as do the people, and the discussions are lively, so you do not get bored. The way the camera keeps moving makes the main floor of the home – where the entire movie takes place – seem much larger than it is.
Throughout the entire film, the actors "break the fourth wall" (the imaginary wall between the actors and the audience) and talk directly to the camera. This technique brings you into the scene, makes the experience a little more personal, and moves the plot along quickly since the couple tells you what they are thinking.
A soon-to-be estranged couple, James McAvoy & Sharon Horgan (He and She), live with their 10-year-old son Artie in a townhouse somewhere in the United Kingdom. Remember, this film is about their relationship, not their parenting skills, which are lacking.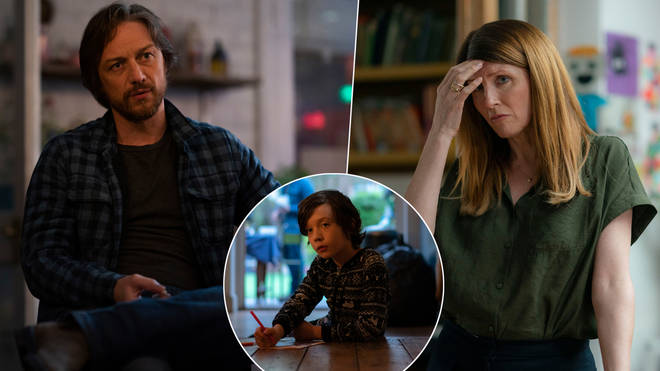 The couple has an underlying respect for each other. But the couple does not hesitate to say what they think about the other. At the start, the couple speaks hateful things in a very eloquent and comedic manner.
Together consists mainly of dialogues, although each has a strong monologue.  For example, his monologue occurs while frying aubergines (eggplants) for his son's favorite meal. The conversation seems personal, and his cooking makes it feel like you are sitting with him, having a beer, and watching him cook.  Of course, she comes in and changes the tone.
Her monologue is more touching about her mom living in a nursing home when the pandemic began. Although, her explanation of exponential is mesmerizing, accurate, and backs up her point perfectly.
This couple, James McAvoy & Sharon Horgan, are excellent together.  They have plenty of compatibility, charisma, and love to keep you interested in what they are saying. The acting flawlessly expresses a wide range of emotions perfectly. Subtitles may help to decipher the accents.
Together is an intelligent British comedy-drama about a couple's complicated relationship during the pandemic. The film contains funny, smart, heart-to-heart personable conversations that are genuine and relevant. Originally shown on BBC Two television. Check out the trailer to see if it is your type of movie.
Movie Details
Director

Writer

Dennis Kelly

Actors

Runtime

1 h 27 min

Release Date

27 August 2021

Genres

Overview

A husband and wife are forced to re-evaluate themselves and their relationship through the reality of the Covid-19 lockdown.