QUIBI
Quibi: Quick Bites on your phone only.  Could be called ShoSto (short stories) or maybe MinBin since you can binge-watch an entire season or movie in episodes no longer than 10 minutes.  Perfect for people with short attention spans, perhaps a better name is GenZTV or BigTikTok.
I just watch what they call "Movies in Chapters." Whatever you think of this type of format, all the stories I've seen are well done.  High production values with excellent actors.  Since the content is in short segments – 10 minutes or less – certain devices hurry the plot along.  Unlikely scenarios occur, and most characters are never well defined.  Since the story moves so fast, the richness of character development is sometimes not there; you miss some subtle undertones and motivations that longer stories offer – you get what you see.  However, the main characters are usually defined well enough to make you care about them, so you keep watching.
This format does allow you to watch complete, often satisfying segments in situations where you usually do not watch TV or movies.  Breakfast by yourself, you can view an entire episode of something that will stir your emotions in some way since the content gets to the point quickly.  You can choose what feeling you want today, do I want to be scared, do I want to laugh, be serious, get there in ten minutes or less.  There is much content available.  Horror is my least favorite genre. But this format allows you to experience horror in small bites; maybe you will find some value, you'll never know till you try.
So, with my three-month trial subscription, I've been stirring many different emotions.  After three months, the cost is $5/month with short ads before each episode or $8/month without ads.
The Stanger:  Horror genre about a woman terrorized by a man.  Or is it.  This story creates terror and anxiety in each 10-minute episode.  Maika Monroe is Clare new to LA and now working for a rideshare company.  She picks up Carl E. (Dane Dehaan) and the stalking begins.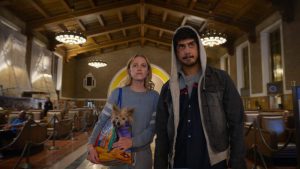 Survive:  Sophie Turner (Game of Throne's Sansa Stark), as Jane diagnosed with Post Traumatic Stress Disorder with Suicide Ideation, gives a personal and compelling view of wanting to die by suicide.  Events change, and we move from the home caring for troubled 14 to 22-year-olds to the mountains of Northern Oregon where Corey Hawkins (Dr. Dre in Straight Outta Compton) as Paul enters the story.  The excellent first episode brings you into her psyche and lets you feel how she is thinking about death; this series has great character development.  Survive is the best Quibi I've seen so far.
Dummy:  Anna Kendrick's character, Cody, a fledgling writer, discovers her boyfriend Dan (Donal Logue) owns a sex doll.  Cody finds the sex doll, the sex doll talks to her, and they become friends.  Mature, usually funny discussions with the intelligent doll, Barbara (Meredith Hagner), about sex acts or body parts, but there is a deeper meaning.  Also, talk about feminism, therapy, empowerment, writing, cannot say much without giving away the whole story since each episode is less than 10 minutes.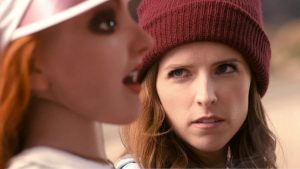 50 States of Fright:  Five different horror stories each two or and three episodes long (20 to 30 minutes).  These are all short stories whose only intent is to satisfy you with a couple of good jump scares.  Grey Cloud Island may have the most scares.  Nothing too horrific, so even non-horror fans can enjoy.

The Golden Arm in Michigan with Rachel Brosnahan (The Marvelous Mrs. Maisel) as Heather and Travis Fimmel (Vikings). Narrated by Andy (John Marshall Jones, lots of TV).
Ball of Twine in Kansas with Ming-Na Wen and Karen Allen. The real story behind the largest ball of twine.
Scared Stiff in Oregon with James Ransone and Emily Hampshire doing taxidermy. Stuffing a Homo Sapien Cognatus is not good for you.
Grey Cloud Island in Minnesota with Asa Butterfield and Alex Fitzalan. Frat initiation goes dark.
Destino in Florida with Danay Garcia and Grayston Holt as police officers in Miami. Her resume did not mention magic.
Quick Bites (Quibi) on your phone can get addicting. I now have a 6 to 10-minute section of my day where I watch something.  I'm discovering there is other good stuff besides movies, who would have known.
Movie Details
Director

—

Writer

—

Actors

—

Runtime

—

Release Date

—

Genres

—

Overview