PUZZLE
"Transformative is such a funny word. Trans… form… a… tive" says Agnes while reviewing her son's college essay question, you guessed it, Puzzle is about a transformation.  In this Indie drama Agnes (Kelly McDonald, Trainspotting), the meek, shy, and the lowest of confidence wife and mother, does just that, she goes through her own transformation in this movie. The catalyst for her transformation – jigsaw puzzles – with a little Iranian Inventor thrown into the mix.  It's pleasing to watch this inhibited church going woman, whom everyone seems to know is unhappy, find her confidence and eventually tell her family what she is thinking.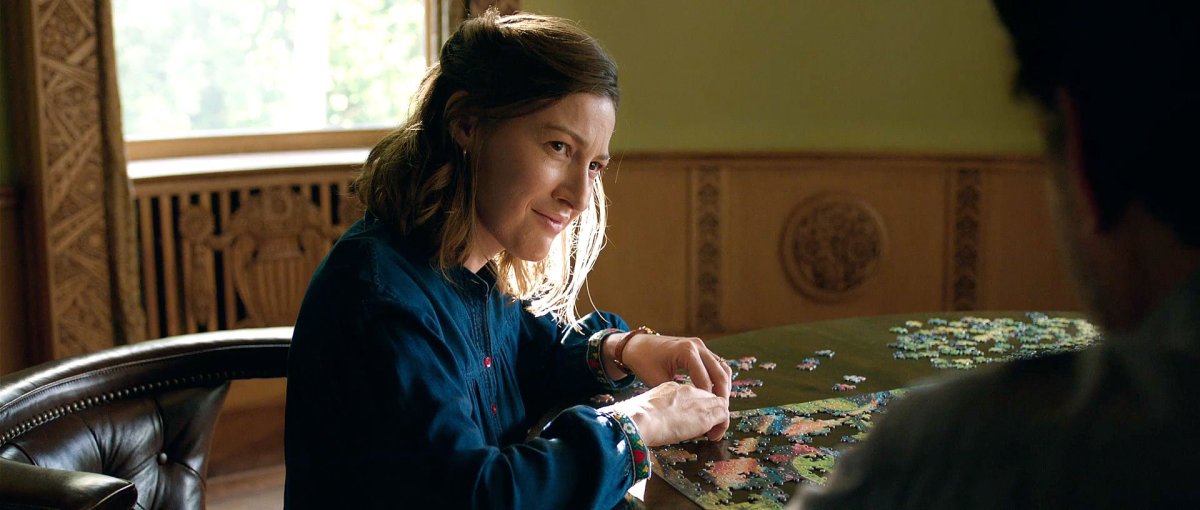 You are thinking, Jigsaw puzzles, how stupid, but there are world-wide jigsaw competitions and a "World Jigsaw Puzzle Federation" in Spain. The main event – how fast can 2 people assemble a 500-piece puzzle – the winner of last year's "Minneapolis St. Paul Winter Carnival" finished in 36 minutes, 52 seconds, but I digress. So, when Agnes discovers she has this innate talent of seeing shapes she becomes obsessed with puzzling. This good church going Catholic begins lying (and stops going to Confession) to continue fitting together jigsaw puzzles with her competition partner Robert (Irrfan Khan) in NYC.
The happiness and contentment she feels while doing a puzzle, well, she has never experienced that in her boring, structured life as a housewife and Mother to two sons, Ziggy & Gabe (Bubba Weiler & Austin Abrams) and a good-ol'-boy mechanic husband Louie (David Denman). The husband is never mean to her, just unaware of everything, like everything from the daily news to his wife's thoughts and desires, and couldn't even comprehend, that his wife is unhappy.   Agnes's lying escalates to a climax – no pun intended if you have already seen the movie – when she sets herself free and starts to go somewhere.
This is a quiet and pleasing Indie film with Kelly McDonald doing an excellent acting job as an unhappy woman starting to become more confident and happier.
Movie Details
Director

Writer

Oren Moverman & Polly Mann

Actors

Kelly Macdonald, Irrfan Khan, David Denman, Bubba Weiler, Austin Abrams, Liv Hewson, Daniel Stewart Sherman, Helen Coxe, Mandela Bellamy, Lori Hammel, Lawrence Arancio, Sebastian Chacon, Barry Godin, Matthew Shifrin, Myrna Cabello, Audrie Neenan, Mhari Sandoval

Runtime

1 h 43 min

Release Date

27 July 2018

Genres

Overview

Agnes is a woman who has reached her early 40s without ever venturing far from home, family or the tight-knit immigrant community in which she was raised by her widowed father. That begins to change in a quietly dramatic fashion when Agnes receives a jigsaw puzzle as a birthday gift and experiences the heady thrill of not only doing something she enjoys, but being very, very good at it.