PASSING
Many years ago, I read Black Like Me, a nonfiction novel by John Howard Griffin published in 1961.  Black Like Me is a simple book confirming in 1961 that people with dark skin experience discrimination because of their skin color.  The three-star movie of the same name, starring James Whitmore, was released in 1964.
Passing is a book written by Nella Larsen, amazingly, in 1929; made into a movie in 2021.  Passing is not a simple book.  The book contains innuendos and symbolism commenting on society and relationships, perfect fodder for college essays and analysis.  Passing, the drama film, has some of these elements as the novel, but you don't need to identify and understand these elements to enjoy the movie. However, film buffs will enjoy discussing the movie inside the movie.
Irene "Rene" (Tessa Thompson) and Clare (Ruth Negga) were raised in Harlem as Negros (the term used in the film). Clare elects to pass as white, denies her past, marries a racist white man, and moves out of Harlem into an upper-middle-class life.
Rene happily remains in Harlem, marries a physician, and now has two children.  Rene sometimes passes as white for a day of shopping in mid-town Manhattan, but the stress of being "caught" is too great for her to pass routinely. Her husband and children cannot pass as white.
Rene and Clare unexpectedly meet in mid-town, and Clare begins to visit her old friend in Harlem to reconnect, not with just her friend but with her racial identity.
Passing is a beautiful, graceful movie filmed in black and white and set during the Prohibition era, early 1920's New York City.
Tessa Thompson and Ruth Negga are flawless in portraying their different worlds. Tessa Thompson is constantly on guard, waiting for something terrible to happen. Ruth Negga is more carefree and confident, never having experienced racial fear and anxiety, and wants back into her old world.
There is a bit of a soap opera undertone, but the primary intent of the book and film is to contrast the differences and opportunities between white and black.
For instance, Rene and her husband Brian (André Holland) argue how to properly teach their kids about the onslaught of racism that is about to hit them. Clare is placing her daughter in a boarding school in Switzerland, unfazed by the racism of her husband John (Alexander Skarsgård).
Rene and her husband talk of leaving America for Brazil to avoid racism; Clare is excited about moving from the midwest into Manhattan for her husband's job.
It was nice watching the drama Passing in black and white, since this is how we all remember this era, from black and white photos.  The atmosphere was 1920's speakeasy with jazz and piano music, parties, good-looking hats, and dancing, all building to an ambiguous tragic ending.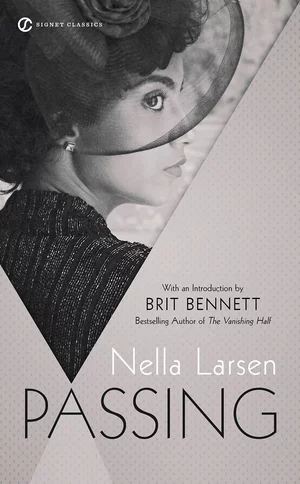 Movie Details
Director

Writer

—

Actors

Tessa Thompson, Ruth Negga, André Holland, Alexander Skarsgård, Bill Camp, Gbenga Akinnagbe, Antoinette Crowe-Legacy, Justus Davis Graham, Ethan Barrett, Ashley Ware Jenkins, Amos J. Machanic, Stu S. Becker, Tom White, Margaret Daly, Kerry Flanagan, Buzz Roddy, Derek Roberts, Amber Barbee Pickens, Samuel Coleman, Tatiana Marie Barber, Carmen Carriker, Leroy Church, Brian Davis, Zuri Foreman, Abeni Jewel, Malik Kitchen, Ivan Phillip Owens, Donna Hayes, Frank Holley, Shaun Hudson, Sienna Jeffries, Doris McCarthy, Rahim Rosen

Runtime

1 h 38 min

Release Date

27 October 2021

Genres

Overview

In 1920s New York City, a Black woman finds her world upended when her life becomes intertwined with a former childhood friend who's passing as white.