Alpha
The relationship that changed our world forever.
ALPHA
I'm a sucker for films set in the Stone Age, and Alpha is a very good coming of age action/adventure movie during the last Ice Age. This film is similar to 10,000 Years BC, Quest for Fire, or The Clan of the Cave Bear all films set in the paleolithic age (500,000 years ago to about 6,000 B.C.E.).  Alpha is an American PG-13 film shot in Canada & New Mexico with the narration in English. The limited made up dialogue between the tribe members is with captions.
The tribe's Chief Tau (Johannes Haukur Johannesson, Where'd You Go, Bernadette) takes his teenage son Keda (Kodi Smit-McPhee, Deadpool 2) on a hunt during the summer to kill a big horned buffalo and prove he is a man. Mom always said, "Keda leads with his heart, not spear" so the son is destined to fail.  Indeed, Keda fails at several tasks during the hunt. Keda gets  separated from the tribe and is presumed dead. However, the son is not-quite-dead-yet and upon waking up, his quest to survive and the return home to his family is the crux of the film and his rite to manhood.
Secondary Storyline:
The trailer also states, "Witness the origin of the relationship that changed our world forever," so an additional storyline is Keda befriending a wolf.  The beautiful wolf, named Alpha (Chuck is a Czechoslovakian Wolfdog) will make this film appealing to any dog lover.  There are stunning CGI scenes of ancient animals, the only easy ones to identify are the brief scenes of Mastodons, Rhinos, a Sabre-toothed cat, and a giant bison that the tribe is hunting. The stunning cinematography with good action and suspense will keep your attention.  There are some good bleak snow scenes, and an excellent water scene after breaking through the ice.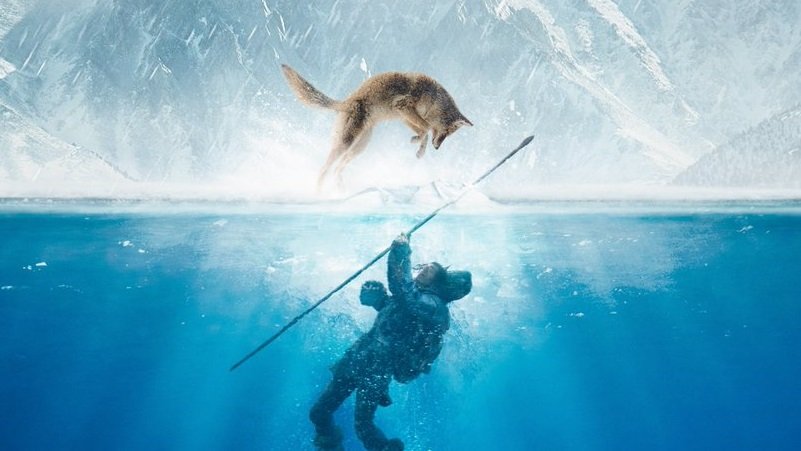 Some Issues:
"Stone Age" films usually make some effort to make the people look more primitive. More like what we believe early Homo sapiens look like. Prosthetic are not used to enhance jaw lines or foreheads. Everyone looks like 21st century people.
Also, where did they find rounded river rocks to mark the graves of the dead. The tribe lives on a high mesa far from water (summer scenes are filmed in New Mexico). These issues are not a big deal, and maybe seeing someone more like ourselves makes it easier to relate to and believe.
PETA Warning:
A bigger issue, PETA boycotts this film. PETA claims five Alberta Bison were killed during the filming. "No animals were harmed during the filming" is not found anywhere in the lower case credits at the end of the film.
This PG-13 film is easy to watch, there are no brutal scenes of killing or eating animals. An adolescent and an adult would enjoy this coming of age movie for the action and CGI images. There are wholesome messages about leadership, being an alpha, and compassion.
Movie Details
Director

Writer

Story by: Albert Hughes; Screenplay by Daniele Sebastian Wiedenhaupt

Actors

Kodi Smit-McPhee, Jóhannes Haukur Jóhannesson, Marcin Kowalczyk, Jens Hultén, Natassia Malthe, Spencer Bogaert, Mercedes de la Zerda, Leonor Varela, Priya Rajaratnam, Nashon Douglas, Michael Kruse-Dahl, Kyle Glenn Thomas, Nestor de la Zerda, Louis Lay, Patrick Flanagan, Blake Point, Taran Kootenhayoo

Runtime

1 h 37 min

Release Date

17 August 2018

Genres

Overview

In the prehistoric past, Keda, a young and inexperienced hunter, struggles to return home after being separated from his tribe when bison hunting goes awry. On his way back he will find an unexpected ally.