Mary Queen of Scots
A beautifully, well crafted, but historically inaccurate drama about the tense relationship between Queen Elizabeth I of England (Margo Robbie, I, Tonya) and Mary Stewart, Queen of Scotland (Saoirse Ronan, Lady Bird, The Lovely Bones). Both women vie for the right to rule both England and Scotland. Both women have a valid right, but both are motivated by different forces and desires. A list of their attributes clearly shows their differences and issues.
Plot Summary: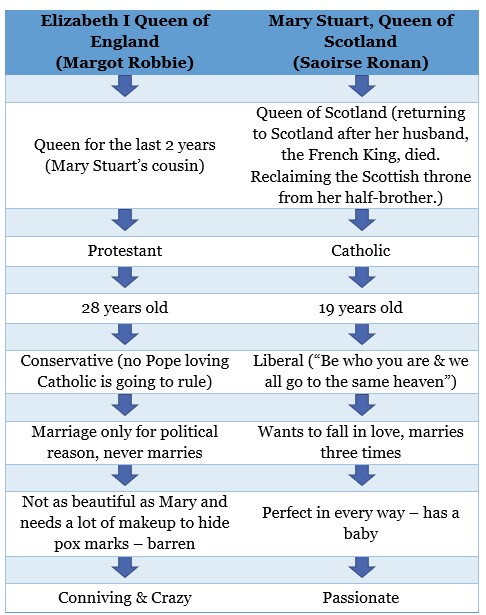 Mary Queen of Scots was nominated for an Oscar in Costume Design and Makeup & Hairstyling so the movie had a genuine 1500's look.  The Scottish and English accents are slight so you can easily understand the conversations.  However, there are so many "politically correct" situations about gender identity, orientation, alcoholism, mental health, and integration that it becomes unreal for the 1500's.  It is almost eye-rolling if you are the cynical type.
The movie seems designed around Saoirse Ronan's face shots.  Set up perfect lighting, face shot, pause camera while Ms. Ronin is experiencing a variety of emotions.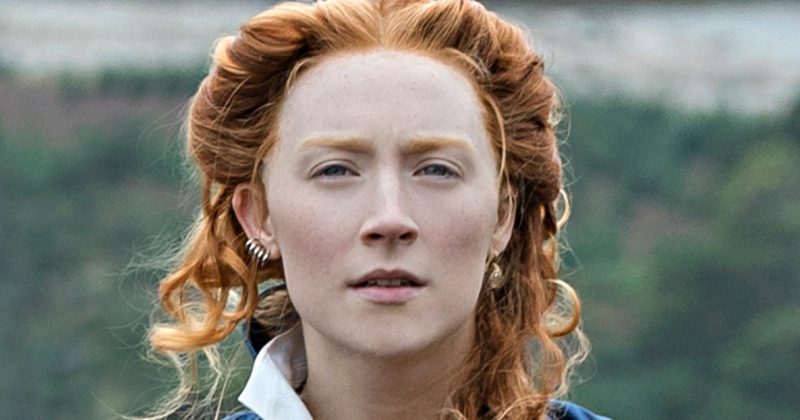 The last 30 minutes becomes more intriguing (although it never happened in the history books) and contains my favorite scene when Mary & Elizabeth meet in a curtain filled room.
The conclusion happens quickly with not enough time to explore the final plotting, and the movie was still over 2 hours. This movie tries to encompass too much. Many of the situations in this movie could be a separate movie instead of just a quick scene.  It is an interesting story but would have been more real in a more modern time.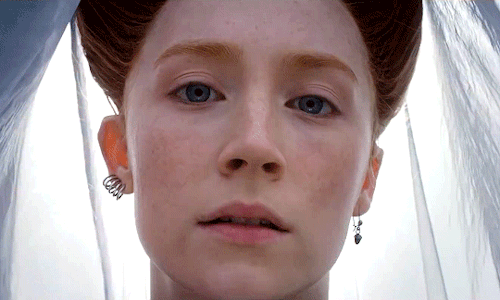 Movie Details
Director

Writer

Screenplay by: Beau Willimon Based on: Queen of Scots: The True Life of Mary Stuart by John Guy

Actors

Saoirse Ronan, Margot Robbie, Jack Lowden, Joe Alwyn, David Tennant, Guy Pearce, Gemma Chan, Martin Compston, Ismael Cruz Córdova, Brendan Coyle, Ian Hart, James McArdle, Richard Cant, Guy Rhys, Thom Petty, Izuka Hoyle, John Ramm, Simon Russell Beale, Maria Dragus, Liah O'Prey, Eileen O'Higgins, Greg Miller Burns, Aneurin Pascoe, Adrian Derrick-Palmer, Kal Sabir, Luke Kidd, Adrian Lester, Georgia Burnell, Alan Turkington, Euan MacNaughton, Scot Greenan, Karen Dunbar, Ian Hallard, Andrew Rothney, Angela Bain, Abby Cassidy, Shalisha James-Davis, Adam Bond, Katharine O'Donnelly, Grace Molony, Luke Hobson, Ben Wiggins, Eldredd Wolf, Eric MacLennan, Nathen East, Daniel Booroff, Jack Lowden, Sean Buchanan, Matthew Pidgeon, Benjamin Barraclough, Jordan Turk, Adam Stevenson, Scot Greenan, Chris Grahamson, Ed Jones, Owen Gorman, John Stahl, Kadiff Kirwan, Alex Beckett

Runtime

2 h 04 min

Release Date

7 December 2018

Genres

Overview

In 1561, Mary Stuart, widow of the King of France, returns to Scotland, reclaims her rightful throne and menaces the future of Queen Elizabeth I as ruler of England, because she has a legitimate claim to the English throne. Betrayals, rebellions, conspiracies and their own life choices imperil both Queens. They experience the bitter cost of power, until their tragic fate is finally fulfilled.