FINDING YOU
Practically, every cliché in the book is in Finding You, a coming-of-age romance film based on the book, There You'll Find Me by Jenny B. Jones. Even though the film is predictable, utterly moral, bordering on religious, by the end, you still hope for the best for the heroine and the movie star.
Venessa Redgrave is the only actor in the film I recognize. Ms. Redgrave is part of the side story used to stir up even more emotions. Although her storyline drags a little, Ms. Redgrave is good, and her storyline works in the end. It is good to see the eighty-five-year-old Venessa Redgrave still working. Ms. Redgrave won an Oscar for Best Supporting Actor in 1977 for her role as Julia in the film Julia.
Finley Sinclair (Rose Reid) fails her violin audition in NYC and decides to study in Ireland for a semester. While staying in a quaint Irish village (Carlingford, in County Louth, Ireland), she meets the teenage heartthrob Beckett Rush (Jedidiah Goodacre), filming another film in his medieval fantasy film franchise. Finley and Beckett travel around Ireland through a series of unlikely events, seeing the sites and, of course, falling in love. Just writing this makes me gag and wonder why I enjoyed this film. I guess the saving grace for me was the violin/fiddle music along with the lush green setting of Ireland. Thanks to Finding You, I now have some new music in my St. Patrick's Day playlist.
The storyline of the two innkeepers, the Callaghan's, is corny, and their acting is dreadful. However, their role is to act ineptly, so Finley and Beckett can tour Ireland together. Ugh!, luckily the innkeepers' roles are minor. Their teenage daughter Emma Callaghan (Saoirse-Monica Jackson) is an enjoyable character and supplies the humor.
The two lead characters, Finley and Beckett, played by Rose Reid and Jedidiah Goodacre, are both relatively new to acting. They both come off as good actors and likable; however, they are a tad too perfect and unreal, which works great in a romance fantasy film. As part of Beckett's story, and to add some pretend depth to the film, there is a storyline about the deception and manipulation of Hollywood on social media.
Finding You, a coming-of-age romance film, even with all the issues mentioned above, the film still works. The likable characters combined with the music and scenes of Ireland make it worth watching if you enjoy believing in a fantasy romance.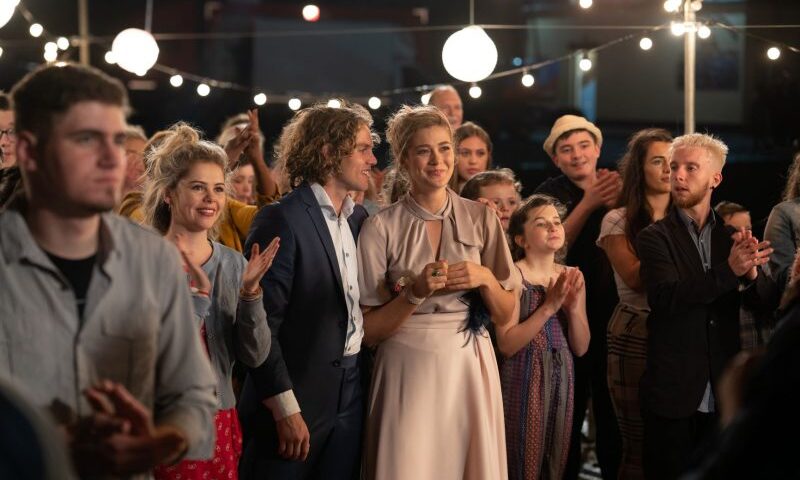 Movie Details
Director

Writer

Brian Baugh

Actors

Rose Reid, Jedidiah Goodacre, Katherine McNamara, Vanessa Redgrave, Tom Everett Scott, Patrick Bergin, Saoirse-Monica Jackson, Judith Hoag, Fiona Bell, Natalie Britton, Anabel Sweeney, Marion O'Dwyer

Runtime

1 h 59 min

Release Date

13 May 2021

Genres

Overview

Finley, a talented aspiring violinist, meets Beckett, a famous young movie star, on the way to her college semester abroad program in a small coastal village in Ireland. An unexpected romance emerges as the heartthrob Beckett leads the uptight Finley on an adventurous reawakening, and she emboldens him to take charge of his future, until the pressures of his stardom get in the way.