FIND ME
Find Me – the 2018 Indie drama – is more than just a wonderful travelogue movie through a few National Parks (Zion, Death Valley & Yosemite).  Written, directed and starring, Joe Huang, Find Me is about expanding your horizons and dealing with hardships.
Joe (Joe Huang,  Why Am I Doing This?) is an accountant beaten down in life by a recent divorce, overbearing and aging parents, and a boring dead-end job.  His only bright spots in life are his son – who lives with the controlling ex-wife Joyce (Jaycie Dotin) – and the bubbly, always traveling and not at work, Amelia (Sara Amini), also an accountant with the firm.  Amelia and Joe form a bond at work due to Amelia's constant badgering of Joe.  Badgering in a loving manner, to get Joe outside, to travel and see the world.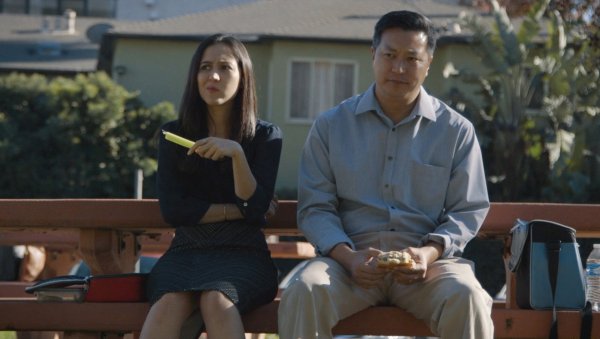 Amelia sees Joe after work and confides in him about her cheating husband – the next morning Amelia is gone.  Weeks later Amelia sends a note saying, "Find Me" with hints in a book titled, "Really Easy Adventures."
Joe starts these "Really Easy Adventures" to find Amelia.  Per Amelia's plan, Joe slowly transforms into a new man.  Joe is still slightly boring and clueless, but talking to non-accountant people, and beginning to be awed by the outdoors.  Joe is "becoming a traveler, not a tourist."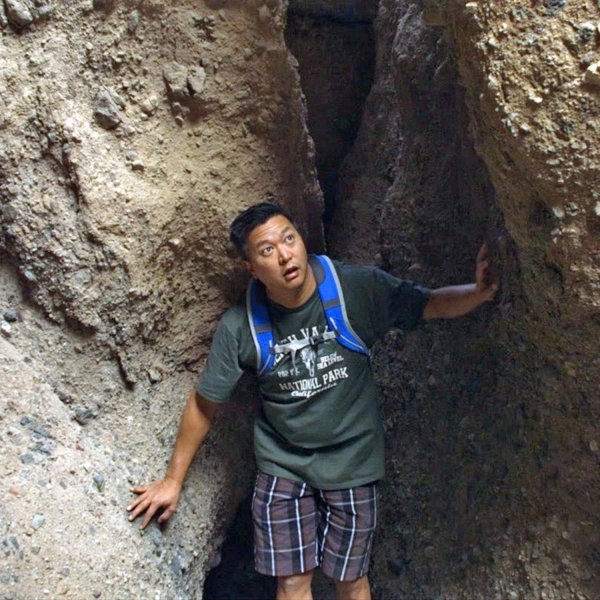 We see Amelia at the end of each adventure after Joe finds the hidden SD card.  Amelia lovingly chides him along to the next "really easy" adventure.  During the travelogue portions of the movie there are stunning scenes of walking the "The Narrows" in Zion, Sidewinder Canyon in Death Valley, and a summit trail in Yosemite.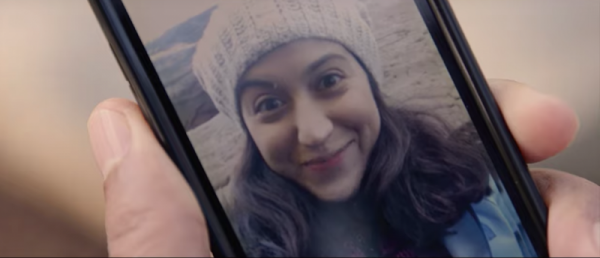 As Joe is experiencing these easy adventures, he meets people who help him along the way.  Everyone is nice on hiking trails.  There is never an antagonist.  Most notable support actors include the waitress Jordan (Kirby Howell-Baptiste) who shows Joe the Milky Way.  Amelia's sister Helena (Krizia Bajos) who finally explains to us what is happening.
Find Me won the audience Award at the DisOrient Asian American Film Festival in Eugene, Oregon and the Best Screenplay at the Rhode Island International Film Festival both in 2018.  If these awards don't get you to see Find Me, rest assured the acting and the relationships in the film are quite natural, enjoyable, and worth experiencing.  The bubbly Amelia is fun.  Amelia's relationship with Joe – the boring, stressed out male, but growing just a bit – is enjoyable to watch.  But I wish Joe grew a little more.
You may remember Find Me – this well written Indie drama film – as a travelogue movie, or, as how Amelia got Joe outdoors, or, you will just remember Amelia.
Movie Details
Director

Writer

Tom Huang

Actors

Sara Amini, Kirby Howell-Baptiste, Krizia Bajos, Patrick Batiste, Jaycie Dotin, Howard Fong, Keith Gallucci, Lisa Garisto, Ben Gavin, John Paul Gazda, Tom Huang, Sam Myerson, Mike Rock, Paris Rumford, Jeanne Sakata, Blackhawk Walters

Runtime

1 h 44 min

Release Date

6 October 2018

Genres

Overview

An emotionally wounded accountant decides to break away from routine and find his missing friend, who has left clues for him of her whereabouts throughout National Parks across the West.