ALWAYS BE MY MAYBE
An adorable rom-com, with two charming people + Keanu Reeves. Does anything more really need to be said? The charming people are the two leading roles – Ali Wong & Randall Park.
How charming is Ali Wong? Even almost eight months pregnant in both of her comedy specials (Baby Cobra in 2016 and Hard Knock Wife in 2018) spouting obscenities about aging, dating, anal, boyfriends, marriage, feminism, birthing babies, and making money, in a very in-your-face hard R-rated way, she is still charming and hysterically funny.
Randall Park has been the nice, slightly inept dad in TV's Fresh Off The Boat since 2015. Randall has had small roles in TV and movies since about 2003. I never heard Randall using R-rated language, he has always seemed like a nice, charming guy, the type of guy everyone could like.
Ali Wong and Randall Park co-wrote Always Be My Maybe.  Nahnatchka Khan, the creator of Fresh Off The Boat, directed the film. Two charming people co-writing a script with Michael Golamco (I bet he's charming too) makes for a very adorable rom-com.
In Always Be My Maybe, two best friends lose touch with each other at 18 and reunite in their 30's. Sasha Tran (Ali Wong) has become a successful Chef opening restaurants in LA, San Francisco, and soon in New York. While Sasha is in San Francisco, Marcus Kim (Randall Park) does some HVAC work in Sasha's home, and they meet again after 15 years. Sophisticated Sasha and unaware, stoner, never-moved-on Marcus spend the rest of the movie awkwardly reuniting and reconnecting with several things.

It's enjoyable watching Veronica (Michelle Buteau) as Sasha's Business Manager, who has it all figured out. Also, seeing Jenny (Vivian Bang) Marcus's dread locked Asian American girlfriend just being bizarre. Always Be My Maybe moves along as a typical well done rom-com fare with nothing surprising or new until some charming genius inserts a scene with Keanu Reeves.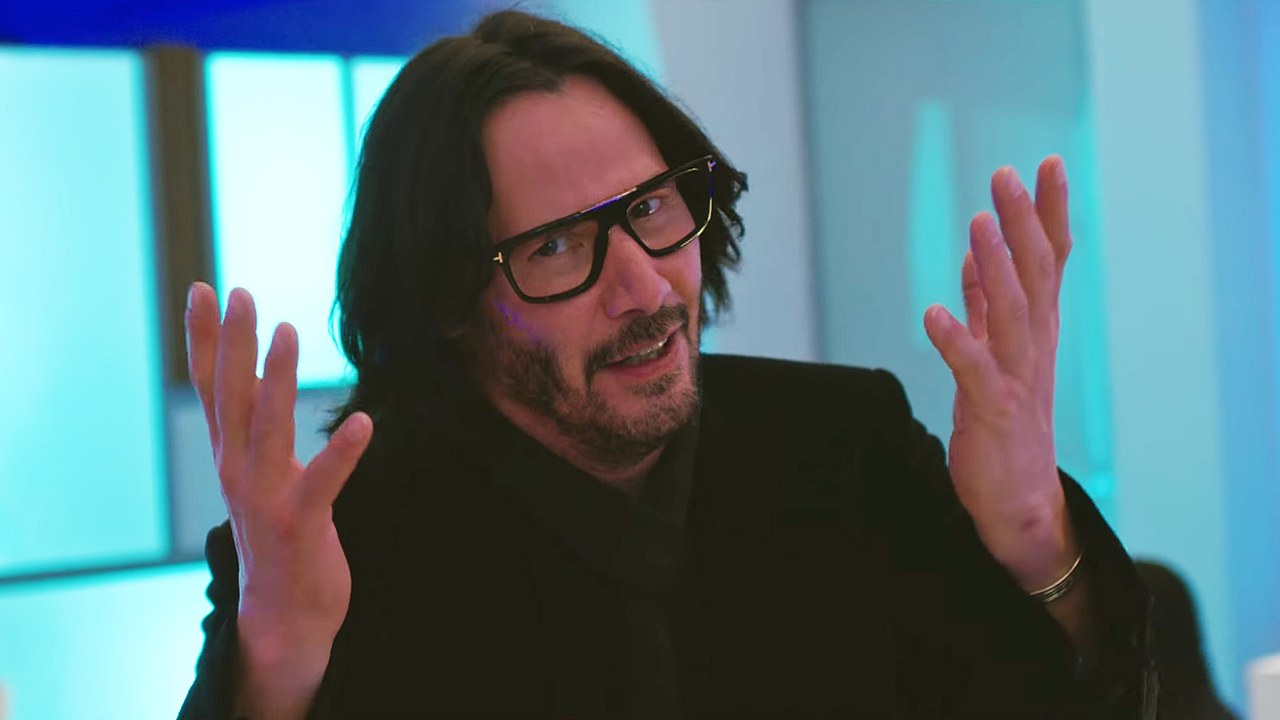 Keanu:
In the middle of the movie comes the weirded out comedy break – Sasha meets and dates Keanu Reeves, who plays himself in the stereotypic ways you would think (or want) Keanu Reeves to act. The great double date with Marcus and his girlfriend Jenny was the funny part – as funny as this movie gets – and an important scene that moves the film forward.
Always Be My Maybe ends up being an excellent rom-com that delivers everything you expect from a rom-com. The film has many enjoyable features not described here, such as Marcus's band, the food, their younger years, Ali's Ex (Daniel Dae Kim, Lost, Hawaii Five-O), the final song, and their parents. Always Be My Maybe is a comfort movie you can watch over and over for years.
Movie Details
Director

Writer

Michael Golamco, Ali Wong, Randall Park

Actors

Ali Wong, Randall Park, James Saito, Michelle Buteau, Vivian Bang, Keanu Reeves, Susan Park, Daniel Dae Kim, Karan Soni, Charlyne Yi, Casey Wilson, Miya Cech, Emerson Min, Ashley Liao, Jackson Geach, Anaiyah Bernier, Raymond Ma, Peggy Lu, Simon Chin, Panta Mosleh, Karen Holness, Eddie Flake, Brian Cook, Chris Hlozek, Neil Webb, Nevin Burkholder, Sonia Beeksma, JayR Tinaco, Emilio Merritt, Jason Canela, Maddie Dixon-Poirier, Johnny Walkr Jr., Marcella Bragio

Runtime

1 h 41 min

Release Date

31 May 2019

Genres

Overview

Reunited after 15 years, famous chef Sasha and hometown musician Marcus feel the old sparks of attraction but struggle to adapt to each other's worlds.