THE 100 YEAR-OLD MAN WHO CLIMBED OUT THE WINDOW AND DISAPPEARED
At the time of its release in 2013, The 100 Year-Old Man who Climbed out the Window and Disappeared was the highest grossing Swedish film.  Now this Swedish film is the third highest grossing Swedish film, only The Girl with the Dragon Tattoo and its sequel made more money. This adventure comedy summarizes the life of Allan Karlsson (Robert Gustafsson) and follows him on his new adventure after he leaves the nursing home on his 100th birthday.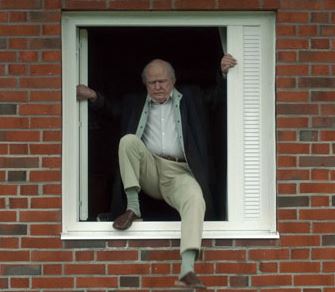 It's really two films that converge, 1) the escape from the home leading to stealing a suitcase full of money, a few slapstick murders, meeting some weird people, chased by incompetent police and criminals, and ending up somewhere else, and 2) flashbacks to his life showing the world changing events he was involved in (Spanish civil war [for and against Franco], Manhattan Project, Cold War spy, Russian Gulag with Herbert Einstein, Albert's idiot brother, etc.).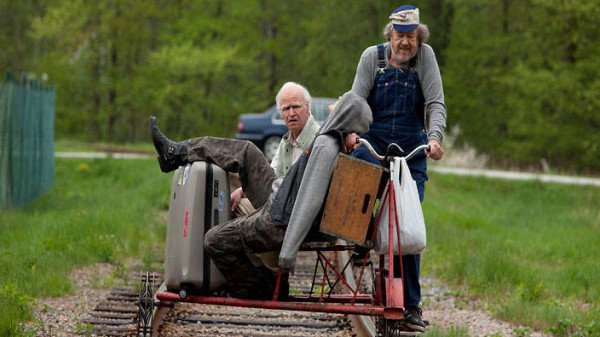 He was an uneducated, bumbling guy who likes to blow things up. Allan Karlsson can be compared to Forrest Gump, but not as good, not as autistic or special, and the makeup wasn't very good either, but this film was nominated for the Best Makeup and Hairstyling in the 2016 Academy Awards.  The 100 Year-Old Man who Climbed out the Window and Disappeared is in Swedish, English, Russian and French. They liked it in Sweden, watchable but a bit corny in the USA.
Movie Details
Director

Writer

Felix Herngren, Hans Ingemansson & Jonas Jonasson

Actors

Robert Gustafsson, Iwar Wiklander, David Wiberg, Mia Skäringer, Jens Hultén, Sven Lönn, Bianca Cruzeiro, Alan Ford, Simon Säppenen, Kerry Shale, Miglen Mirtchev, Lateef Lovejoy, Manuel Dubra, David Shackleton, Johan Rheborg, Eiffel Mattsson, Alfred Svensson, Donald Högberg, Keith Chanter, Philip Rosch, Cory Peterson, Ralph Carlsson

Runtime

1 h 54 min

Release Date

25 December 2013

Genres

Overview

After living a long and colorful life, Allan Karlsson finds himself stuck in a nursing home. On his 100th birthday, he leaps out a window and begins an unexpected journey.